A former data center in Herndon, Virginia, has been converted into a vertical farm.
Indoor farming company Beanstalk is set to launch its new HQ and vertical farm at 251 Exchange Place in Fairfax County on September 13.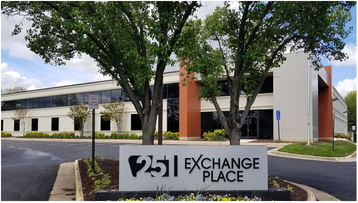 Beanstalk uses proprietary hydroponic technology and heirloom seeds to produce leafy greens, herbs, and vegetables, which it currently sells to supermarket chain Harris Teeter and direct-to-consumers from its existing location.
The 251 site operated as a data center for a decade or more. Digital Realty acquired the site back in 2006 for $12.9 million. The site was leased to Level3 for a period of time. Digital Realty then sold the facilities to Netrality in a four-facility deal in mid-2016, with Lincoln Rackhouse acquiring it a month later.
Lincoln still has the facility listed on its site, but it seems EQT's Exeter Property Group took over the property sometime around 2019. The company also lists the property at its site, but as an industrial space rather than a data center, and filed with Herndon official to redesign parts of the property in May 2019.
The two-story building was constructed in 1985. As a data center the ~71,000 sq ft building previously offered around 23,400 sq ft (2,175 sqm) of IT space across four data halls and some 5MW of capacity with a further 3MW available, as well as 17,750 sq ft (1,650 sqm) of office space.
Founded in 2017, Beanstalk Farms is receiving a $100,000 grant from the Governor's Agriculture and Forestry Industries Development Fund, and Fairfax County will contribute $100,000 as a local match to expand the vertical farming company. Herndon officials said Beanstalk will invest over $2 million and create 29 new jobs as it moves its headquarters to the new site.
Herndon officials first announced Beanstalk would be moving to 251 Exchange in May 2021, describing the site as a 'former data center.' In the notice announcing the grand opening, town officials said that in addition to growing crops in the new location, the new facility will house a larger storefront as well as space for research and development.
"I am pleased to support a project that brings together Virginia's oldest and largest industry, agriculture, with one of our newest and fastest growing sectors, technology," Governor Northam said last year. "Innovative entrepreneurs like Mike and Jack Ross are demonstrating how STEM fields can bring together exciting, new growing techniques cultivated from advancements in biology and technology.
As DCD has previously written, Indoor & vertical farming have similar requirements to data centers in needing ample power, water, and air conditioning in large industrial spaces, as well as backup power sources.
Early indoor farms reportedly used data center equipment, as specialist equipment wasn't available. Net Zero Agriculture's systems are inspired by IT rack designs and used in shipping containers. Many companies in the UPS and HVAC space such as ABB, Air2O, and Schneider will serve both sectors, though grow facilities are beginning to customize cooling equipment.
More in Construction & Site Selection