FirstLight Fiber has acquired all of the Pennsylvania-based Keystone Initiative for Network-Based Education and Research's (KINBER) network assets.
As per the agreement, KINBER will continue providing research and education connectivity in the US state, but all of its 1,800 fiber-miles will now be owned and managed by FirstLight.
KINBER is a Pennsylvania based non-profit corporation providing broadband and digital technologies throughout the state's low-economic areas. The financial terms of the transaction were not disclosed.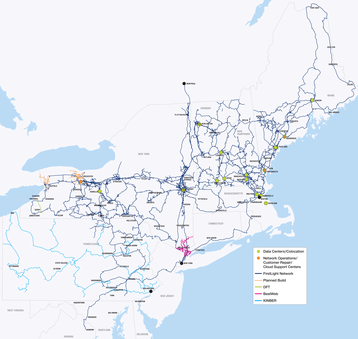 Cable takeover
Headquartered in Albany, New York, FirstLight provides interconnectivity with cloud providers, telcos, and colos, throughout the Northeast of the US. It operates more than 20,000 route miles in the US and was acquired by Antin Infrastructure Partners (AIP) two years ago for an undisclosed amount.
Since its takeover by AIP, the company has been trying to expand in Pennsylvania with a build-out of fiber miles in its most recent project, the Eastern Pennsylvania network. According to senior partner at AIP, Kevin Genieser, the acquisition of KINBER's network assets are complementary to the Eastern Pennsylvania network.
Kurt Van Wagenen, president and CEO of FirstLight Fiber, said: "Acquiring the KINBER network is very exciting for FirstLight. It builds upon our recent expansion in the eastern part of the state and will enable us to offer fiber-based broadband services to more organizations throughout the Commonwealth."
RBC Capital Markets LLC served as financial advisor to KINBER while undergoing the sale. Morgan, Lewis & Bockius LLP served as legal counsel to FirstLight. The transaction is expected to close later this year, following regulatory approvals.