Ohio-based Connectivity Solutions Direct LLC has launched fiber housings and cassettes which support 96 ports in a single rack unit - the largest number in the industry.
This is 33 percent more than "conventional high-density fiber solutions," which tend to have 72 ports per RU, and has a US patent (number 10,514,518 ) However, rival vendor R&M's Netscale range, launched in 2016 can be denser, supporting up to 120 ports per rack unit (RU) for larger modules.
Am I dense or not?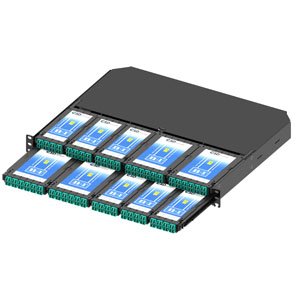 Connectivity's n+1 range is modular, and supports 8-fiber, 12-fiber, 16-fiber, and 24-fiber MPO pre-terminated trunking, as well as splicing and field termination options. It's available in 1RU, 2RU and 4RU housings, and supports duplex and parallel connectivity in the same housing, allowing migration between the two.
The system has two interchangeable 8- and 12-port cassettes, which can be deployed within the same n+1 housing, featuring interchangeable adapters and internal components allowing cassettes to be configured for conversion, patching, splicing, taps, splitters or fanouts.
Chris Raynor, VP of technology solutions at Connectivity Solutions, talked DCD through the n+1 solution. Fiber trunks arrive at the back, terminating multiple fibers in high capacity ports, which are broken out into separate ports in the patch panel at the front of the module. The fiber housing has two trays, each of which holds up to five cassettes. The cassettes have up to 24 ports each, with standard SC cut-outs, said Raynor. With the 24-port modules, it is possible to fit four in a shelf, making 8 of them - and therefore 96 ports - in a single rack unit. "Each of these is a standard SC cut-out and can be a duplex port," he said.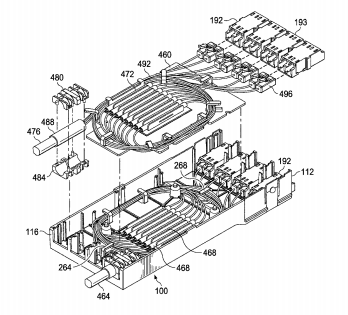 The products are available now, said Raynor: "We can deliver cassettes and housings in four weeks, while MTP trunks are typically available in two to three weeks." So it seems that Connectivity is packing the most SC-cutout ports into a single RU module (contact DCD if you know different).
However, a rival vendor, R&M, has had a solution for three years which can be denser. The R&M Netscale 120 range has a 1RU module which holds 5 cassettes of up to 18 ports,. This only makes 90 ports in a single rack unit, but the equipment in that module is only three-quarters of a rack unit high, so R&M has been able to make a unit which is 3 RU high, which holds four rows of the modules, making 360 ports in 3 RU, or 120 ports per rack unit. The unit also squeezes the ports together tighter: the modules are six ports wide, so each has slightly less space than a full SC cut-out, though they take normal fiber connectors.
If this discussion seems dry, we can recommend R&M's explanatory video (left).
Do we need it?
Why are vendors taking this much trouble? Raynor says the higher density units will typically be deployed in greenfield sites initially, rather than as upgrades: "Developments that are driving this requirement are that land is becoming harder to acquire: our platform can increase connectivity by 33 percent in the same space." Latency can also be improved by allowing increased densities, he added.
"Today's hyperscale data centers must handle more and more connections, but floor space is fixed, so higher-density connectivity solutions are required," said Kevin Twomey, President and CEO of Connectivity Solutions Direct.
At R&M, Thomas Wellinger says that users need intelligence as well as density. R&M's most recent products include IoT monitoring and intelligence, and ribbon fibers to reduce the volume taken up by cables. The Blade Cabling Manager will terminate up to 2,592 fibers in two rack units.