Colocation provider FirstLight Fiber, which owns network assets in New York, Vermont and New Hampshire, has just opened a refurbished data center on Sundial Avenue, New Hampshire. The site  was acquired in the purchase of internet service provider G4 Communications last summer.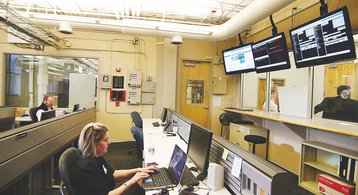 Growing by acquisition and organically
G4 was a typical acquisition for a company that has been built from lots of smaller communications specialists, assembled over the years by Riverside Partners, a Boston-based private equity firm that invests in middle-market health care and technology companies.
Riverside combined Tech Valley Communications of Albany, New York, with segTel of Lebanon, Pennsylvania in 2011, and TelJet Longhaul of Vermont in 2013, to create FirstLight.
The G4 Communications purchase came with a state-of-the art network operations center that now serves as one of the FirstLight hubs.
Patrick Coughlin, senior vice president of sales and marketing for FirstLight called the addition "a major carrier hotel for all of New Hampshire."
The new data center has been extensively rebuilt and has had a conference center and additional office space added. Other carriers served by the data center include FairPoint and AT&T. In addition to high-speed Internet for commercial or institutional clients, the company provides bandwidth for major wireless carriers.
The company has been growing recently both through acquisition and organically, and sees its ability to offer fiber connectivity between the facilities and to its customers' offices as its key differentiator. The company's network now consists of 215,000 miles of fiber-optic connections, serving 1,500 buildings in New York, New England and Quebec.