Facebook has signed a virtual power purchase agreement (VPPA) with Sunseap to buy energy from Singapore's largest offshore floating solar farm in the Straits of Johor.
Sunseap said renewable energy credits (RECs) from the 5MWp project will be transferred to Facebook under the VPPA and will support the social network's operations in Singapore, including its data center.
"We are thankful for this partnership with Sunseap that is helping us bring new solar energy to the Singapore grid in support of our operations in the area," said Urvi Parekh, head of renewable energy at Facebook. "This is our first floating solar project, so we're particularly excited to support an innovative technology that will help bring more renewable energy projects online."
Register now for our upcoming virtual conference on data center energy integration: DCD>Grid Scale
Solar in Singapore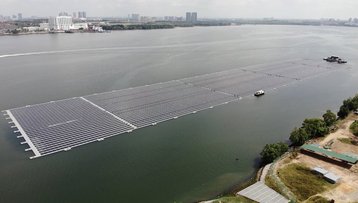 The agreement is Facebook's second VPPA with Sunseap; In October 2020 the two companies signed a deal for 100MW of solar energy from panels installed on more than 1,200 rooftops across the city state once operational in 2022.
"We are very pleased to be working with Facebook for a second VPPA. This partnership is another significant step for Sunseap towards helping corporations meet their sustainability goals," said Lawrence Wu, Co-founder and President of Sunseap Group.
"We are grateful for the leadership shown by companies like Facebook in seriously embracing sustainability, whether through reducing waste or minimizing and offsetting their carbon emissions."
Microsoft and Amazon have signed similar agreements with Sunseap to power operations through solar farms in Singapore.
Work on the floating solar farm finished last month. The 5MWp project consists of 13,312 panels, 40 inverters and more than 30,000 floats, and is expected to produce 6 million kilowatt hours (kWh) of energy per year.