US energy storage firm ESS Tech is expanding into Europe to help meet the demand for long-duration energy storage (LDES).
The company plans to start deploying its long-duration batteries in Europe during the second half of 2022. The European division will be led by Alan Greenshields, who has previously worked at several battery technology companies.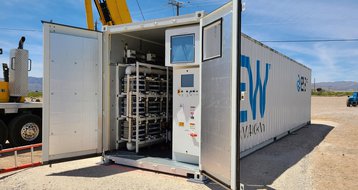 Europe needs some 20TWh of long-duration energy storage to meet UN climate change goals of Grid Net-Zero by 2040. This need is being driven by the transition to renewable energy which is intermittent, does not match the peaks in demand, and cannot be switched on at will.
LDES can also help reduce Europe's dependency on oil and gas imports, ESS Tech says, which is becoming more of a concern following the Russian invasion of Ukraine.
ESS makes long-duration batteries using "iron flow" technology which promises safe, low-cost, and sustainable energy storage. The batteries are made with iron, salt, and water, earth-abundant materials, making them cost-effective and environmentally sound.
ESS has already signed some European contracts, including an order from Enel in Spain for 17 ESS Energy Warehouse iron flow battery systems, providing a combined capacity of 8.5 MWh, which will be used to support an EU-backed solar farm and provide resilience for the local power grid.
The LDES Council, set up in November 2021, following the COP26 environmental conference, already includes tech sector members with high energy demands, including Microsoft and Google. The Council says long-duration energy storage is necessary if we are to limit the rise in global temperature to 1.5°C, and predicts that the market could be developed by 2040 to deploy enough power to avoidance of 1.5 to 2.3 gigatons of carbon dioxide per year.
"Based on our success in the US, it makes sense to bring our technology to the European market where demand is so strong," says Eric Dresselhuys, CEO of ESS. "LDES technologies are the only way we can combat the devasting effects of climate change. We are deploying solutions today that will help the European region to simultaneously accelerate the transition to sustainable energy sources and achieve its energy security goals."