Asian real estate company, ESR Group has begun building a 19.2MW data center in Osaka, Japan.
The ESR Cosmosquare OS1 facility will be the first part of a three-phase facility at Nanko Kita, 10km from Osaka City's central business district (CBD). The site is planned to eventually reach 96MW.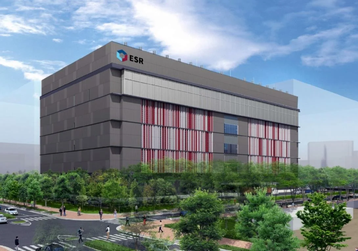 OS1 is due to be completed in July 2024, and will be the first of three phases (OS1, OS2 & OS3) on the Cosmosquare campus.
The data center is aimed as a hyperscale facility for cloud service providers, data center operators, and enterprises providing services in Osaka CBD, as well as those bringing new services to central Osaka.
ESR, formerly known as ESR Cayman, first announced the planned campus in 2021, when it bought an existing data center in Osaka with plans to expand to three hyperscale data centers on the site.
According to 2021 reports, ESR planned to build two new data centers on the site, totaling 39MW, before redeveloping the existing facility taking the site to a total of 78MW. Today's announcement of OS1 would be the first of those two new buildings, but the release suggests the plans have expanded, with a total of 96MW, presumably to be reached by increasing the size of the rebuilt data center or the other new one.
ESR plans to get Cosmosquare OS1 certified to LEED NC v4 'Gold,' and will use an efficient cooling system to reduce energy use and minimize the need for chillers.
Diarmid Massey, CEO of ESR Data Centres, said: "Central Osaka has growing demand for modern, energy efficient digital infrastructure. The ESR Cosmosquare campus delivers state-of-the-art data center capacity, scalability, and flexibility to support hyperscalers and colocation operators as well as the Japanese government's accelerating digitization transformation initiative."
Japan is the world's third-largest economy, and Tokyo is the largest cluster of data centers in the Asia Pacific region, with 489MW of capacity, and the same amount in the pipeline, according to real estate data center experts, CBRE. Most of its capacity is aimed at services within Japan, and the market was worth $10.7 billion in 2021 and is predicted to grow to $15bn by 2027, according to Statista figures quoted by ESR.
Elsewhere in Japan, ESR has plans for a resort and data center complex in Nagasaki, and a new 20MW data center in Tokyo. The group is also converting a Hong Kong cold storage facility into a data center
More announcements will be on the way, as the group has announced a $1 billion data center building fund, this year and a partnership with Stack to build a data center in Seoul.