Japan is the world's third-largest economy, and Tokyo is the largest cluster of data centers in the Asia Pacific region. It's got 489MW of capacity, with the same amount in the pipeline, according to real estate data center experts, CBRE.
...but don't call Tokyo a hub.
Hubs are places like Singapore, which serve surrounding countries. Singapore takes the number two position in APAC with 454MW, according to CBRE, despite having a population and an economy which are a fraction of the size of Japan. Singapore is a hub for regional data centers - or at least it has been up till the current moratorium on new facilities there, which is pinching its pipeline.
Serving local demand
"Japanese data centers serve local demand primarily," says Jackson Lee, vice president of corporate development at Colt DCS. "It's not like Singapore, where data centers serve all of APAC, as a gateway."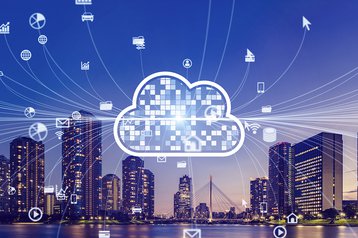 Be that as it may, local operators agree that demand in Japan is skyrocketing - because Japanese business is going through some big changes, with a big wave of cloud adoption driving demand at home.
"Industry analysts have been predicting, in the coming years, the cloud and colocation sector in Japan is going to grow 25 percent year over year," Princeton Digital Group CEO Rangu Salgame said. "That's phenomenal growth on a good size market base. We believe that's a very large market in the making."
Lee agrees that the big boom is coming from cloud adoption: "Over the last three years, we've seen significant growth in Japan." Previously Japanese businesses relied on local systems integrators, he says: "They had a more conservative approach to going full cloud. Culturally, they wanted more control over their data, and knowing where it sits."
Now, as digitization takes hold, local businesses are adopting the cloud and starting to let go of their on-premises racks, and that's bringing in a need for more cloud capacity.
Lee acknowledges that the pandemic has sped things up, but he takes a long view. Colt has been operating data centers in Japan for around 20 years and he has seen some big changes as it evolved from a network business to data centers.
"We were primarily a network services business when we entered Japan. Data centers were a secondary product and, a lot of times, data center space was given away as part of a network services package. That is not the case anymore: in the cloud world, data centers are growing exponentially.
Salgame is a newcomer, but one with a specific mission. Princeton Digital Group (PDG) has set itself the task of building standardized data centers for hyperscale customers in every significant Asian economy - no matter how diverse those markets are.
Salgame says: "Hyperscalers continue to invest in Japan, and they see a large, untapped growth coming from digitization by the private sector, as well as the government." He also sees a big market for local players offering content like gaming and streaming.
And both PDG and Colt are offering existing customers elsewhere an entry to Japan.
Digitization is coming
The pandemic has helped the cloud take hold in Japan in two ways, says Lee. It's driven a move to online working, as elsewhere. But in the Asian region, customers are well aware of potential supply chain problems, so they are keen to book space ahead of time.
"A lot of our cloud [provider] customers, they have actually tried to secure additional future supply," Salgame says. "Use cases like work from home were already there, but the pandemic accelerated things.
"It's quite known that you're going to have disruption in the supply chain. Our customers are trying to future proof their product. And the way to do that is to start looking right now to secure data center space immediately."
After being quite insular, Japanese businesses are now "pretty happy" with US cloud providers, Lee says: "There's really only two choices. There's the US, and you can go Chinese if you want to, but there's always more skepticism with going with a Chinese provider given their history. Companies like Amazon and Microsoft have made significant inroads into that country."
Japan doesn't yet have strong data localization and privacy laws, but Lee sees them coming: "I think every country, at least in the G7, will come up with their own. The Europeans already have one. Maybe the only country that will hold out will be the US. But I can see Japan having one - It makes sense. But it's just not in the works yet."
In the meantime, quite a lot of Japan's data is hosted in Singapore, Lee says. But regardless of any data localization laws, new use cases are changing that: "If you're just hosting music for your iTunes, no one really cares where it is. It's a completely different thing if you're trying to do CAD drawings, or financial trading - anything that is high traffic and bandwidth-intensive."
Power and land
The two biggest challenges for Japanese data center operators are power and land, says Salgame: "Each country has its own nuance, and challenges that pop up with land and power. In Japan, power is a big issue. We have been able to find a location where power is not an issue."
Tokyo has been the primary cluster for data centers for some time. There's a strong market developing around Osaka, but both Lee and Salgame say the most exciting areas now are in Tokyo suburbs, as that core market develops.
Colt pioneered the Inzai data center cluster, 50km East of central Tokyo, which Lee paints as a Japanese version of Loudoun County, Virginia: "Colt was the one that built the first fiber connection from Tokyo center to Inzai. And once you have that one connection, others can easily sell into it. That's the magnet effect."
Colt launched its Inzai 3 data center this year, a 27MW facility next to its existing two Inzai buildings - 90 percent pre-booked before building began.
AirTrunk is building a 300MW campus in Inzai, which could be the largest campus in APAC and is due to begin operations with a 60MW phase by the end of 2021.
Digital Realty has teamed with local giant Mitsubishi for a joint venture which will build 120MW in Inzai, announced in 2019.
But Salgame thinks the future of Inzai is limited by the power factor: "The central business district was the first generation of data centers in the region. Then you saw the emergence of the eastern side of Tokyo, called the Inzai region, which is in the cheaper district.
"That's where you saw a lot of data center growth in the recent past. But there, the power has been capped out. There's no potential power availability in the coming years."
PDG has staked out a different location, 30km North of Tokyo: "We picked a location called Saitama City, where we've been able to secure power. The hyperscalers see that the eastern side is going to get capped out, and Saitama is going to be the next logical region for them to form their cluster."
At least one hyperscaler should be happy - Microsoft picked Saitama City for one of its first data centers in Japan, along with a second facility in Osaka.
According to Salgame, there's plentiful power there - its first site has potential for about 99MW: "We round it out to 100MW. It's a nice headline: 100MW in two phases."
Renewable energy?
Lee doesn't see a shortage in Inzai, but he agrees power is important: "The government and the local utility Tepco are investing heavily to upgrade their national grid to keep up with demand. You could find some empty farmland that's suitable, but it's really about having power, as well."
Data center operators want to be carbon neutral, but that's not possible in Japan, which the IEA admits has an uphill struggle to decarbonize.
The vast majority of Japan's energy comes from fossil fuels, with all the oil and gas imported. There's a tiny 1.5 percent from hydro, and around four percent from nuclear power, which restarted recently after a hard stop caused by public disapproval after the Fukushima disaster.
Data centers are going to add to that problem with the demands they make on Japan's electric grid. Players like Google, Microsoft, and Digital Realty have shown themselves willing elsewhere to fund renewable power through power purchase agreements to build solar and wind farms.
Salgame is hopeful, given Japan's signature of the Paris climate accord: "There's a tremendous impetus in Japan for green power, and we are seeing a lot of activity towards an improved regulatory framework to buy green power in the market. It's front and center for us, working with third party providers on green energy in Japan."
The trouble is solar and on-shore wind are a problem, with usable land scarce in Japan, and off-shore wind not as promising as one might hope: "The largest offshore wind project in the world today, currently under development off the coast of the United Kingdom, will produce the equivalent of just two percent of Japan's electricity demand," says Dr. Fatih Birol, executive director of the International Energy Agency. "Plus, the project is in the shallow waters of the North Sea, a setting not available off Japan's coastlines where the ocean floor plunges precipitously."
Birol says Japan has a "narrow but achievable" pathway to net-zero, which will have to be based on new plays like ammonia and hydrogen - which Microsoft has shown support for.
"We will be accelerating our conversations and engagement in the local market," says Salgame, "to do a lot more proactively, rather than just wait for the industry to get played out."
Take your partners
In any economy, local partners can be useful. When data center giant Digital Realty entered Japan in 2017, it teamed with Mitsubishi in a joint venture, with facilities in Inzai and Osaka.
Equinix has a long-standing Japanese presence with around a dozen data centers, but recently signed a joint venture with Singapore investor GIC to provide capital for hyperscale building in APAC markets including Japan.
Acknowledging things are speeding up, the old hand Colt has decided it needs a partner of its own, and this year teamed with the venerable Mitsui corporation. One of Japan's largest and oldest "keiretsus" (business groupings), Mitsui was founded in 1875, but traces its origins back to a 17th century businessman, Mitsui Takatoshi.
"There's a lot of great joint ventures being announced now," says Lee. "The difference between our joint venture and others like Digital Realty and Mitsubishi, is that Colt has been in the region for nearly 20 years. We know Japan, we have a proven track record of building small and large hyperscale data centers.
"For us, this joint venture wasn't a way for market entry," he explains. "It was for us to maintain our market share and accelerate to beat the competition. We weren't looking for a partner that can provide capital; we were looking for a company that can provide strategic relationships."
Lee hopes Mitsui can help find power, and win local customers: "Not cloud providers, but your local Japanese enterprise companies who are not fully cloud yet. These guys want to have some sort of hybrid cloud where they own their own colocation space, and some of that will be moved into the cloud." His targets include companies like Toyota and Sony.
"We were looking for a company that has construction and design capabilities, a company that has real estate and commercial capabilities. Mitsui is one of the world's oldest trading houses, and they are multi industry. Digital Realty is close to that with Mitsubishi as their joint venture - but that was a way for them to gain market entry into Japan."
Dodging Covid
After a slow start, Japan now has 60.9 percent of its population fully vaccinated (at the time of writing). That's low compared with other developed nations. Japan has to be careful about Covid-19, but it's kept a relatively low death toll from the pandemic, and prioritized infrastructure.
"We have pretty well thought out and stringent processes if a person gets sick, in terms of running the facility," he says, though data center builders have had to work to avoid disruption: "Parts and supplies come from different countries throughout your supply chain, you can diversify some of your different suppliers - have your plan Bs and plan Cs in place."
As elsewhere, the disease hasn't hurt data center demand at all, says Lee: "Going forward after the pandemic, work from home is here to stay in some sort of capacity."