Equinix has opened its fifth Brazilian data center, SP3, in São Paulo - a facility which was originally announced last year.
The $69 million data center offers 725 cabinets in its first phase, but will grow to a total capacity of 2,775 cabinets, doubling the company's current footprint in Brazil.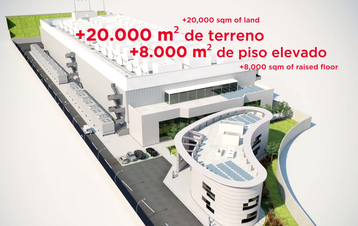 Growth in Latin America
SP3 features 215,000 square feet (19,974 sq m) of gross data center space, 90,000 sq ft (8,361 sq m) of which will be colocation space once fully built out, and approximately 13.3 megawatts of power.
The data center is Tier III Design and Facilities certified and aims to have a PUE below 1.35 when fully operational.
"Our continued growth in Brazil highlights strong demand for hybrid cloud and greater interconnection as enterprises are looking to move to a globally distributed architecture so they can better interconnect people, locations, clouds and data at the edge of corporate networks," Karl Strohmeyer, Equinix president of Americas, said.
Should Equinix's planned acquisition of Verizon's data centers in North and South America go through as expected, the company will also gain another São Paulo facility.
São Paulo has the the largest economy by GDP of any city in Latin America and the Southern Hemisphere, and the eighth largest in the world.