Equinix has opened DC21, its latest facility in Ashburn, Loudoun County, Virginia, and the company's 16th data center in the Washington DC area.
The 41,000 sq ft (3,800 sq m) DC21 offers an initial capacity of 925 cabinets as part of its $95m first phase and a planned future phase increasing that figure to 3,100 cabinets and more than 124,000 sq ft (11,500 sq m). This development follows the $111m first phase of DC15 a 23,000 sq ft (2,136 sq m) facility which opened in Q2 of this year. This year, Equinix has spent around $200m establishing both DC15 and DC21 in Ashburn.
Hot off the heels of DC15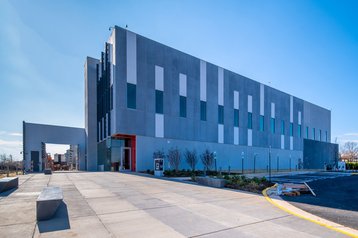 In addition to Equinix's usual International Business Exchange (IBX) services, the company also offers Equinix Metal an interconnected bare metal service at DC21. Equinix Metal is based on the services previously offered by Packet, which Equinix bought at the start of 2020 for an undisclosed sum. It's available in Amsterdam, New York, Silicon Valley, and Washington DC, with another 10 locations due to follow early in 2021.
Jon Lin, president of Equinix America said: "DC continues to prosper as a key digital hub for businesses around the world despite the challenges faced with the COVID-19 pandemic. Our continued expansion in this important metro creates more opportunities for businesses to leverage Platform Equinix as the central component to their digital foundation while enabling them to grow and scale at software speed."
The past year has seen Equinix expand greatly across the globe adding to its IBX portfolio which now reaches around 225 IBX data centers across 63 markets and 26 countries. In the US, Equinix has more than 80 IBX data centers across key metros, including Silicon Valley, Dallas, Chicago, New York, Miami, and Washington DC.
Moreover, the Covid-19 pandemic has been a bit of a damp squib for Equinix. The company was expecting to take a big hit from the pandemic but instead has seen year on year healthy growth and profits. Last month, Equinix reported its Q3 profits topped analysts' expectations and has predicted even higher revenue for Q4.