The US Environmental Protection Agency (EPA) is planning to update its Energy Star score for data centers, and is commissioning a new survey of data center water and energy use.
The EPA's efficiency rating for data centers was first announced in 2010, and developed with The Green Grid, a data center industry group. The updated version will be based on a fresh survey, carried out through the Information Technology Industry Council (ITI), the tech lobbying group which acquired The Green Grid in 2019.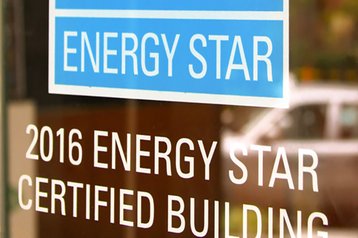 The top quarter win an Energy Star
The Energy Star score for data centers, announced in 2010, is similar to the EPA scoring system for buildings. It is based on a survey of the PUE (power usage effectiveness) of US data centers, giving each one a 1-100 score. Those who are in the top 25 percent of the survey (having a score of 75 or more) can display an Energy Star label.
The Green Grid created the PUE measure back in 2006, and it was used to compare the efficiency of data centers and was accepted as an international standard, ISO/IEC 30134-2:2016, in 2016. After this, The Green Grid published little, and was acquired by ITI in 2019.
"For more than a decade, The Green Grid has proudly collaborated with the US EPA on its data center-related Energy Star programs and is excited to partner on this effort to facilitate an update to the Energy Star score to take into account recent modernization of data centers," said Erica Thomas, ITI's Senior Director for Environment, Sustainability, and Regulatory Affairs, who has taken responsibility for The Green Grid since its acquisition. "As the world's demand for data centers continues to grow rapidly, access to the best data center performance information is an important element to enable industry innovation."
Michael Zatz, manager of EPA's Energy Star Commercial Buildings program, welcomed the refresh of the data center rating scheme: "We're looking forward to collaborating with The Green Grid on this important effort to better understand the current state of data center energy efficiency, and are excited about the opportunity to update the Energy Star score and provide critical feedback to data center owners and operators on their energy performance. TGG has been a long-time partner to the EPA, and we appreciate their contribution to this critical project."
The program is aimed at US data centers and EPA says the updated score will "encourage data center operators to improve performance and achieve higher levels of energy efficiency to support the United States' critical digital infrastructure".
EPA plans to analyze a dataset from a representative sample of US buildings, compiled from a voluntary survey, open to all US data centers. Anonymized results will be given to the EPA to produce the updated Energy Star score. The survey will include stand-alone data center facilities, as well as those inside larger buildings. As well as energy consumption TGG will look at other factors likely to influence energy consumption and develop a list of operating characteristics to be surveyed.
For more information, email [email protected].