South Korean energy investment firm Energy Innovation Partners (EIP) has formed a new a joint venture with Diode Ventures for renewable energy and data center projects in the country.
EIP and Diode, a wholly owned subsidiary of Black & Veatch, this week announced a new JV called the Green Korea (TGK) to develop, finance, build and operate renewable energy and data infrastructure projects in the Republic of Korea.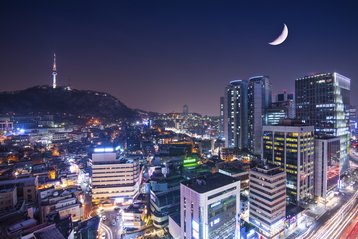 "We believe the growing Korean market offers substantive opportunities to add value for our clients and support the evolution of greener, more sustainable energy infrastructure," said Brad Hardin, president of Diode Ventures. "The EIP team is a trusted partner for Diode, and we are excited to work with them under the banner of The Green Korea Inc. to perform development, engineering, procurement, and construction services that will bring these critical projects to life."
EIP said TGK plans to establish 1GW renewable energy generation facilities in South Korea within the next three years through subsidiaries that will promote solar and wind power generation and data center businesses, and then sell electricity or lease data center capacity; amongst others, TGK will be targeting global tech companies.
TGK said it is currently considering participating in projects to jointly develop 150MW solar power plants with one of the domestic energy conglomerates in Jeollanam-do.
"EIP is very confident in our ability to grow a sustainable and lasting infrastructure footprint in Korea in partnership with Diode," said Heejun Park, president of EIP Asset Management. "This agreement marks an important milestone in our long-term relationship with Diode and Black & Veatch."
US-based Diode develops energy and data infrastructure; in 2019, Diode has developed a 120MW Taiwan Solar Project, with Google signing a 10MW power purchase agreement (PPA) for the project. The company is also involved in the Golden Plains Technology Park project in Kansas City.
Focusing on ESG, green energy infrastructure, and power generation, EIP has nearly $100 million worth of assets under management. This is seemingly the company's first move into data centers.
South Korea imports nearly 96 percent of its energy, but is working towards a 20 percent carbon emissions reduction by 2030 and a net-zero economy by 2050.