Edgnex, the new Dubai-based hyperscale data center builder, has begun work on a 20MW data center in Riyadh, Saudi Arabia, and will also build on land bought in partnership with Ireland's Dataplex.
The company is backed by Dubai property magnate Hussain Sajwani, and formally owned by his property firm Damac. It plans to build 30MW to 40MW data centers in "under-served" markets in Europe, the Middle East, Africa, and Asia.
The firm has also appointed JLL as its preferred data center facilities management (FM) partner for data center operations, with JLL providing services such as remote hands, whitespace provision, and a customer portal for incident management.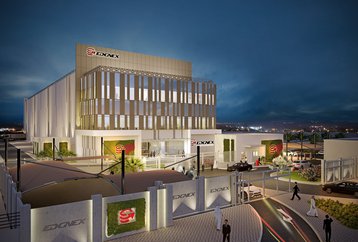 The Riyadh facility is only the start, the group's chairman told DCD today.
Dubai-backed builder
The Saudi data center will be at Industrial City 2, 19km from Riyadh city center and 47km from the airport. It will have a capacity of 20MW on a 17,720 sqm (184,000 sq ft) plot and be ready to go live in Q3 2023. The facility's close proximity to Riyadh's city center will provide low-latency access to the entire KSA market, and customers will benefit from high-fiber density and connectivity options.
Senior DAMAC VP Niall McLoughlin said: "The KSA is one of the most exciting and dynamic ICT markets in the MENA region. We want to help attract hyperscalers and innovators from around the world and give them a foundation for growth in the Kingdom."
Although Edgnex only emerged in 2021, Hussain Sajwani told us that DAMAC began studying the market a year and a half ago. The new company has no data centers in operation yet, and will concentrate on markets that are not already well-served. As well as Ireland, it apparently has another project underway in Turkey.
"The first choice is the Middle East and within the Middle East, Saudi Arabia, Turkey, and Egypt," said Sajwani. "We think we have made good headway into Saudi and Turkey."
In Ireland, Edgnex will build a data center campus that could reach 70MW+, on a greenfield parcel of land bought jointly by DAMAC and Dataplex in Abbotstown, near Dublin.
Beyond that, the company is looking at building in Spain, Italy, and Germany, but is currently "at the stage of looking for sites" in those countries
The company has no plans to build in the US, and will avoid markets like Frankfurt which are already well served, Sajwani told us.
Edgnex has hired a team of 15 data center executives from other companies in the sector, including Stuart Manby, VP marketing and sales who joins form Global Switch, .VP of data centers Mehmethan Sisik, who joined from Equinix, and VP of data center operations Raymond McNally who joined from Microsoft. The company will operate independently from DAMAC but will have access to DAMAC's experience for project management and other needs.
DAMAC itself is a multinational luxury property company founded in 2002, with projects in the UAE, Saudi Arabia, Qatar, Jordan, Lebanon, Oman as well as the UK.
"Being a property company, we have done high rises, low rises, offices, hotels, and serviced apartments," said Sajwani. "Data center is pretty close to the property business - buying land, getting the zonings, getting the construction permit, and building the shell. The only complication is the MEP side of it - the mechanical electrical components."
Hyperscaler data centers are built with lower margins than luxury apartments, he said, but the customers are good, he said: "In this business, your clients are typically hyperscalers like Microsoft or Amazon, signing a contract for five to 10 years with the prices which are fixed and linked to inflation."
This is steadier than residential property he said, which is "typically cyclical - three years up and a couple of years down."
Any data center firm will need to have a strategy for its carbon footprint, and one funded from an oil-power state is no exception. Edgnex does tick this box - in response to an email question from DCD, we were told: "We are putting sustainability at the heart of our design, we will use renewables where we can and if not available will lobby to move towards this and carbon neutrality."
"We're looking forward to supporting Edgnex's mission and growing together in the data center space. It has ambitious plans and we're excited to support its vision for the next digital hubs," said Jonathan Kinsey, EMEA head of data center services at JLL.