EdgePresence, an Edge data center company with DataBank as an investor, has launched a new facility in Orlando, Florida.
The company has announced that it deployed a new 15-cabinet, EdgePod in the Orlando, Florida market with 100 percent customer occupancy upon deployment.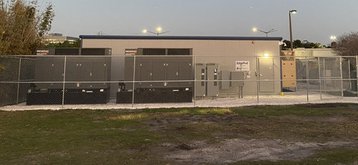 Formed in 2017 and formerly known as Modular Life Solutions, each EdgePresence facility features a 12ft by 30ft container with an IT capacity of 100kW, and aims to locate them at cell towers across the US.
"During the deployment of our flagship EdgePod, we learned a great deal about our customer needs as well as our deployment capabilities," said Doug Recker, Founder and CEO of EdgePresence. "Through continuous development iterations, including, soliciting feedback and input from customers and recommendations on design from our deployment partners, we have demonstrated a great outcome for our customers and the broader developing ecosystem that has provided EdgePresence with a roadmap for future deployments and insights for a repeatable, scalable and profitable business model."
According to its website, the company has rolled out 11 facilities in Atlanta, Savannah, and Statesboro, Georgia; Austin, Texas; Boulder and Denver, Colorado; Gainesville, Melbourne, and Jacksonville (x2), Florida; and Pittsburgh, Pennsylvania. It lists plans for another 12 more across the US.
EdgePresence has plans to deploy four additional EdgePods in the Washington, D.C. and Los Angeles, California markets in the next 90 days.
The Washington DC site is at the National Landing Smart City and has already secured agreements with customers to account for 70 percent capacity.
DataBank invested $30 million in EdgePresence in 2020. The company has previously said its modules will be Schneider's EcoStruxure units, deployed by IT distributor Accu-Tech.
EdgePresence has previously announced American Tower has a partner for the latter's Edge computing roll-out. Many of the American Tower Edge locations are the same markets as those listed on EP's site.