Eaton has teamed up with the University of Zagreb's to help customers better utilize small data centers.
The power management company partnered with the Faculty of Electrical and Computer Engineering (FER) on the Immersive Datacenter ExplorAtion and Supervision (IDEAS) project, funded by the European Union.
DCIM for the Edge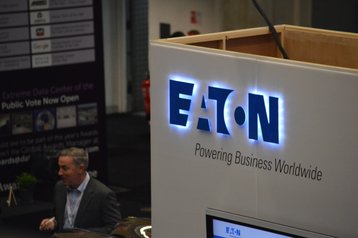 The "IDEAS project will enable data centers to benefit significantly from the value add of DCIM (Data Center Infrastructure Management) solutions at a fraction of the cost and complexity of today," the European Commission project notice states.
The interface of IDEAS "will provide an innovative and competitive answer at a time when the number of data centers is dramatically increasing in Europe due to colocation, 'cloudification' of enterprise IT, but also new trends such as IoT, 5G that will result in the surge of very small and scattered data centers (also known as Edge IT)."
The data center monitoring software comes out of the EU project MANGO, which focuses on optimizing energy use at large data centers.
Eaton is also involved with "Exploring Manycore Architectures for Next-GeneratiOn HPC systems," along with Zagreb and several other universities.
The company contributed a software platform that monitors energy consumption, component temperature, and computing activity in real-time. Eaton is also developing low loss and low voltage power distribution solutions for data center racks.
This software will form part of IDEAS, with a consultation phase exploring further Edge data center-focused areas to develop, such as augmented reality.
A pilot service using an AR prototype created by the University of Zagreb, is currently operational "with a few key customers" with small data centers with one to ten racks.
The prototype uses computing and power resources defined in Intelligent Power Manager (IPM) software to overlay static (server model) or dynamic (power consumption) information on the image captured by the phone or tablet, which facilitates remote maintenance.
In a second phase of the IDEAS project, interactive discussion groups were set up with local partners of Eaton's IT ecosystem in France, Denmark, the Netherlands, Belgium, Italy, and Morocco.
The interactive virtual sessions guided participants through the lifecycle of service offerings offered by Eaton for data centers, including the IPM software and machine learning for shutdown procedures.
"By integrating augmented reality into Eaton's IPM software, a solution for efficient data center operation has been added to our HPC solution portfolio," said Dr. Mario Kovač, Director of the Center research on HPC architectures and applications at the Faculty of Electrical Engineering and Computer Science of the University of Zagreb.
"The complementary expertise has enabled even more ideas to be initiated which will be implemented in the near future."