A dispute over less than $6 million is stopping a satellite broadband provider from enabling communication services to Tonga in the wake of a volcanic eruption, tsunami, and multiple subsea cable breaks.
Over the weekend a large underwater volcano erupted close to Tonga, triggering tsunamis reaching heights of almost three feet in places. Both cables serving the nation have been broken and repairs are estimated to need at least two weeks. While there are reportedly some satellite connections available, a government-procured backup hasn't been activated over a dispute about money.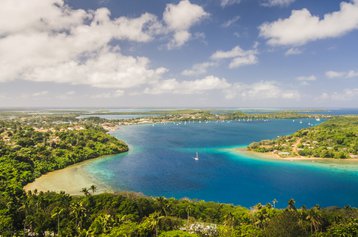 In 2019, in the wake of a 12-day subsea cable outage, the Tongan Government signed a 15 year deal with satellite broadband provider Kacific for remote island connectivity and fiber back-up; the deal was supposed to see Kacific's Kacific1 satellite used to connect communities in 89 remote outer islands.
However, ZDNet & Stuff.nz report that the deal is still sitting in arbitration in Singapore and has never been activated. As a result, the company is yet to provide service to the nation despite the recent events.
A Tongan government-owned company, Tonga Satellite, reportedly did not honor the US$5.7 million deal to provide the satellite services. The previous Tongan government said the contract was void as Tonga Satellite did not have the right to enter into the contract and that it was signed without Cabinet approval, subsequently closing the company down.
Last year, Tonga's lord chief justice, Michael Whitten, ruled Tonga Satellite should be reinstated to the Tongan company register, saying it was clear the company had been removed by the Tongan government to frustrate arbitration of the dispute.
"Kacific is willing and able to restore connectivity since a valid and signed agreement exists to that effect between the Government of Tonga and Kacific," Kacific CEO Christian Patouraux said in a statement issued on Monday.
"All we need is to activate that service and perform that contract. We are now awaiting instructions. We have one simple message for the Government of Tonga. We can help. Please get in touch."
"[Kacific] is prepared to provide a full suite of satellite broadband services under a Framework Services Agreement that was negotiated and signed by Tongan Authorities in April 2019. However, the previous government was unwilling to perform the contract, and it is currently subject to arbitration in Singapore," the company said.
On Saturday 15 January the eruption at 04:10 GMT of the Hunga Tonga-Hunga Ha'apai underwater volcano, located about 65km (40 miles) north of Tonga's capital, Nuku'alofa, caused a 1.2-meter tsunami, Australia's Bureau of Meteorology said. Both the international Tonga Cable – laid in 2013 and running 827 km to Fiji – and the Tonga Domestic cable connecting the islands of Vavaʻu, Lifuka, and Tongatapu have been damaged.
Despite not providing service to Tonga, over the weekend Kacific shared a LinkedIn post about the eruption: "Our hearts are with the people of Tonga today. Kacific hopes for the safety and wellbeing of everyone affected and wishes to support the people of Tonga and the new government with the restoration of communication channels during this very difficult time."
Jamaican company Digicel said on Sunday that its local mobile phone network on Tongatapu was operational and that it was working on getting satellite connectivity for its customers in essential services and government.