The Defense Information Systems Agency(DISA) is seeking bids for a company to provide, install, and maintain a 10GB ethernet line from an Equinix data center to a Department of Homeland Security (DHS) facility.
The line will travel more than 900km (560mi) from the Equinix site in 1950 N. Stemmons Freeway, Dallas, Texas, 75207 to a DHS facility in Building 3782, 1000 Chiefs Way, Corry Station, Pensacola, Florida, 32511.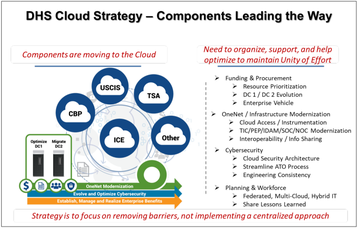 The connection goes from a DHS cage at the Equinix DA6 data center. It is not known how large a presence the DHS has at Equinix facilities, but it awarded the company a $3.3-7.3 million contract in 2021 to provide interconnection and hosting services.
The department also runs a data center at the National Center for Critical Information Processing and Storage at the NASA Stennis Space Center in Mississippi. The government-owned facility, which is operated by General Dynamics, is being slowly shifted to the cloud, with its footprint reduced by more than a third in 2019.
Last year, General Dynamics was awarded $395.5m to continue to maintain the facility as the cloud migration drags on.
The department last year awarded a $2.69bn data center and cloud solicitation to Perspecta. General Dynamics challenged the award, but the Government Accountability Office denied the process this February.
The department, which also includes the Immigration and Customs Enforcement (ICE) and US Customs and Border Protection (CBP), expects to phase out its primary DC1 data center first, followed by DC2, which is operated by Perspecta. The second facility has already seen some of its workloads moved to AWS, notably the DHS's system for identifying people using fingerprints, irises, and faces. ICE also is seeking its own $100m contract with AWS and Azure.
But this May, more than 40 human rights groups called on AWS to drop a DHS contract to store information on more than 270 million people, including children. Google employees have also protested deals with ICE.