The US Immigration and Customs Enforcement agency plans to spend at least $100 million over five years on cloud services.
The government body is looking for "cloud infrastructure hosting in AWS and Microsoft Azure environments," despite protests by staff at both companies over providing services to the controversial body.
Documented human rights violations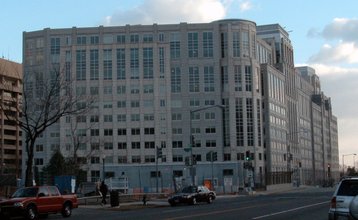 ICE is seeking a "Solution Provider to provide access to FedRAMP authorized AWS and Microsoft Azure Cloud Service Provider (CSP) marketplace products and cloud based CSP resource offerings including Infrastructure as a Service (IaaS), Platform as a Service (PaaS) and Software as a Service (SaaS) within the ICE Cloud," according to a procurement notice first spotted by Bloomberg.
In July 2018, more than 100 Microsoft employees signed an open letter to CEO Satya Nadella calling for Microsoft to "cancel its contracts with ICE, and with other clients who directly enable ICE." Microsoft already provides cloud services for ICE to support "legacy mail, calendar, messaging and document management workloads" in a $19.4m contract.
"Like many of you, I am appalled at the abhorrent policy of separating immigrant children from their families at the southern border of the US," CEO Satya Nadella told employees after they complained about the contract. "I want to be clear: Microsoft is not working with the US government on any projects related to separating children from their families at the border."
Two separate open letters to Amazon CEO Jeff Bezos said that the company should no longer provide hosting and services to Palantir, which in turn supports ICE and sister Homeland Security agency Customs and Border Protection.
An NBC analysis of federal data last year found that 24 people died in ICE custody under the current administration, including seven children, with a further four dying soon after being released.
This month it was revealed that ICE is trying to deport women who were witnesses or alleged victims of forced gynecological surgery at the hands of an ICE doctor. More than 50 women have come forward alleging "jarring medical neglect" at the hands of private prison company LaSalle Corrections. Under CBP's care, children were handled violently and sexually assaulted, human rights campaigners found.
In a procurement notice last year, CBP said it used Google Cloud Platform, AWS, Azure, IBM Cloud, and Oracle Cloud. It also used Salesforce and ServiceNow, as well as Quip, Zoom, Office 365, Power BI, IBM Maximo, IBM Trirega, and Presidio.
It is difficult to track exactly how much DHS agencies spent on cloud providers as they often use resellers. Bloomberg Government data estimates that in Fiscal 2020 ICE paid Microsoft more than $20m for products and services, $9.9m of which was for Azure. CBP spent about $21m on AWS, while ICE spent more than $24m on AWS-hosted Palantir this fiscal year.
A small number of Google employees also protested the CBP contracts, writing: "It's time to stand together again and state clearly that we will not work on any such contract. We demand that Google publicly commit not to support CBP, ICE, or ORR with any infrastructure, funding, or engineering resources, directly or indirectly, until they stop engaging in human rights abuses." The group added that any cloud provider that worked for CBP "will be facilitating its human rights abuses."
The new cloud contract request comes as the Department of Homeland Security looks to reduce its own data center footprint and shift to the cloud.
It also comes at a period of turmoil for the department - this weekend, a federal judge ruled that acting Secretary Chad Wolf was not legally serving in his position as he was never confirmed by the Senate. Any rules signed by Wolf could potentially be illegal, and could be reversed.
Last week, two senior Department of Homeland Security officials were forced to resign by the White House as part of a wider reorganization pushing party loyalists. This week, President Trump fired Christopher Krebs after the director of the Cybersecurity and Infrastructure Security Agency said that the 2020 election had been "the most secure in American history." His deputy resigned after the firing.