General Dynamics Information Technology has filed a protest with the Government Accountability Office (GAO) over a huge Department of Homeland Security data center & cloud contract.
In early October, DHS awarded the $2.7 billion Data Center and Cloud Optimization Support Services (DCCO) contract to Perspecta, which is now a Peraton subsidiary.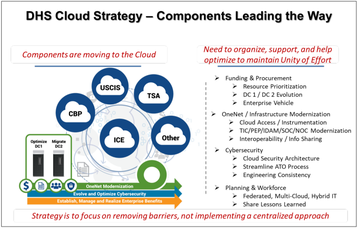 GDIT claims that the DHS held improper discussions and that there were undisclosed conflicts of interest. The company said DHS failed to properly consider Perspecta's performance record and that it unreasonably assessed Perspecta's proposal.
The US GAO is expected to issue a decision by January 20 2022.
The DHS' largest IT infrastructure contract to date, the indefinite-delivery, indefinite-quantity award would see Peraton move the department to a hybrid computing environment.
The contract winner will have to provide the "core support services needed to drive a more efficient, responsive hybrid IT environment that serves as the foundation for the management and integration of on-premises, colocation, and cloud-based environments," the DHS's request for proposals says.
"These support services must optimize and ensure continued [Data Center 1] operations while implementing and managing the future state HCE in support of the DHS mission and, where appropriate, the migration of infrastructure and applications within the HCE (e.g., from DC1 to [cloud service provider] environments)."
DC1 is currently maintained by GDIT under a temporary $395 million contract. The facility is part of NASA's Stennis Space Center in Mississippi, with DHS leasing approximately 36,000 sq ft (3,300 sqm) of raised floor space in the data center.
GDIT itself was previously at the center of a similar procurement spat. Its CSRA subsidiary was jointly awarded a $7.6 billion contract to provide cloud-based email and collaboration tools for the Department of Defense in 2019.
Perspecta, however, protested the deal twice. The challenge ultimately failed, with the contract re-awarded to GDIT. But the new contract was significantly smaller - at 'just' $4.4 billion.
The Department of Defense has had limited success with its cloud contracts. The $10 billion Joint Enterprise Defense Infrastructure contract was mired in controversy from the start, drew the ire of the President, and led to years of legal challenges, before being scrapped.
The DOD is now reworking JEDI as the Joint Warfighter Cloud Capability.