Digital Realty is to build a data center on the site of a sugar silo in Marseille, France.
First reported by Businews.fr, Digital Realty is to build a new data center on the site of an old sugar silo at the Marseille-Fos Port, having won a tender with its bid to take over and build on the land.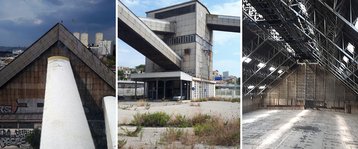 The new MRS5 facility will reportedly span around 10,000 sqm (107,640 sq ft) and be ready for service by the end of 2025. Gomet reports the company will be investing €260 million in the project.
The Grand Port Maritime de Marseille (GPMM) first called for expressions of interest in the AMI Sugar Silo back in December 2021. The vacant complex includes a 3,600 sqm storage building, weighing tower, truck delivery dock, and conveyor belt transfer equipment.
Gomet reports the silo dates back to the 1960s but has been abandoned since 2015. The site is said to require asbestos removal.
Gomet has previously reported Digital's interest in the site and its issues with the pace of decision-making at the GPMM.
DCMag.fr reports a number of data center developers, including Telehouse, were also seeking to develop on the site.
Digital Realty operates a number of data centers in Marseille, with MRS2, 3, and 4 all within 500m of the new site. MRS3, opened in 2020, is located in a former WWII submarine base. MRS4, located nearby, launched in late 2022. The three facilities all utilize river cooling.
Digital Realty – then Interxion – arrived in Marseille in 2014 by taking over a data center from SFR. That site, since renamed MRS1, is also located close to the port.
Digital Realty confirms third Paris campus
Digital also recently confirmed plans for a third campus in Paris.
The company confirmed PAR13 would be built at a new 15-hectare site south of the French capital in the city of Les Ulis.
PAR13 will offer 20MW by the end of 2023, with the potential to expand up to 80MW. The site as a whole will reportedly span 54,000 sqm (581,250 sq ft) over two two-story buildings (the second will be PAR14), according to engineering firm Terrell Group.
Reports Digital was planning another Parisian campus surfaced in October 2021 after the company filed an ICPE building permit with the DDE.
"PAR13 brings diversity to large players in the public or trusted cloud as well as to digital companies by meeting their ever-increasing needs. By anticipating them, we offer our clients visibility and flexibility regarding their growth projects by allowing them to deploy new IT infrastructures within the same campus," said Fabrice Coquio, SVP Digital Realty and president of Digital Realty France.