Singapore-based Digital Edge has acquired two data centers in Tokyo, Japan.
The company has signed agreements to acquire ComSpace I and ComSpace II – in downtown Nihonbashi and Shinjuku respectively – from Japanese telco Arteria Networks Corporation.
"I look forward to a long and successful partnership with Arteria, and to continuing to identify other opportunities to expand in line with market demands and better support our customers in their digital transformation journey," said Samuel Lee, Digital Edge CEO.
ComSpace I has 3,641 sq m (39,100 sq ft) of floorspace, while ComSpace II has 9,336 sq m (100,500 sq ft). Arteria still has a number of data centers in Tokyo and Osaka.
The transactions are expected to close in two phases; the first is already complete, and the second phase is expected to close in Q2 2021. Terms of the deal were not disclosed, but the company says it has invested "in excess of $200 million to offer customers more than 5,300 cabinets of data center capacity" in total.
Digital Edge expands in Japan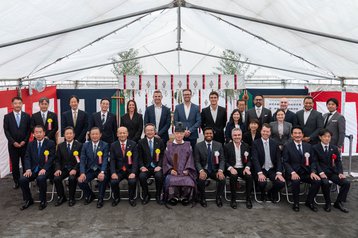 "Digital Edge is committed to accelerating cloud adoption and digital transformation in Japan by building an exceptional in-country platform in key Japanese metros, such as Tokyo and Osaka – the two prime locations for data centers in Japan," said Kei Furuta, President of Digital Edge.
"The partnership with Arteria gives us access to additional inventory and a strategic, carrier-dense location. Consequently, it will enable global and Japanese businesses to leverage our platform to increase their footprint in the country and enjoy the network diversity provided by world-class data center assets."
Backed by Stonepeak Infrastructure Partners, a New York infrastructure-focused private equity firm, Digital Edge was founded in August 2020. CEO Lee previously served as president of Equinix's Asia Pacific business.
The company is developing a 12MW facility in central Osaka scheduled to open in Q1 2022 and has a stake in ITOCHU Techno-Solutions Corporation's Mejirozaka Data Center in Tokyo. Last month the company acquired Sejong Telecom's data center assets in Seoul and Busan, South Korea.
"Transferring two of our data centers leaves Arteria free to focus on providing our customers with core communications services and enjoy its growth by partnership with Digital Edge," added Koji Kabumoto, representative director, president & CEO of Arteria Networks Corporation. "It will be exciting to see Digital Edge leverage its expertise in data center development and operations to create an even stronger platform that enables customers to embrace opportunities today and unlock growth potential tomorrow."