Deutsche Telekom plans to deploy a number of battery energy storage systems across Germany.
In total, the systems are expected to support 300MWh. The first such system has been deployed at the German telco's head office in Munich.
The 1MW/6MWh unit was deployed for DT's Power & Air Solutions (PASM) subsidiary using technology from Norwegian modular energy storage firm Pixii. Another battery system is planned for Münster 'shortly.'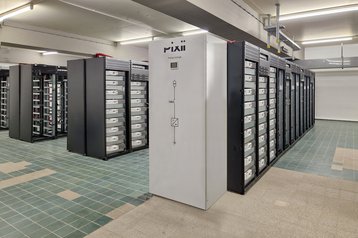 "The current energy challenges in Europe underline the need for investments in energy storage," Bernd Schulte-Sprenger, CEO of PASM, said.
"This is key for the shift to renewable energy sources to proceed without unacceptable volatility. Battery energy storage systems are a key component in the transformation, and this marks our first big step in that direction."
Pixii's PowerShaper system is made out of modular containers, each of which can provide up to 50kW. The overall product ranges from 10kW to 1MW.
It can use either lithium iron phosphate or lithium nickel manganese cobalt oxide battery cells.
In a presentation from its sustainability day, Deutsche Telekom has given itself until 2030 to hit the 300MWh mark. The company said that it plans to implement the first 20 percent, some 60MWh, by the end of 2023.
The company did not detail if the rollout is just at office buildings, or if it will include critical infrastructure. DCD has contacted the company for clarification.
DT has previously partnered with Ericsson to demonstrate 'off-grid' cell towers powered by wind and solar energy generated by on-site panels and turbines.
Finnish telco Elisa was recently given a government grant to roll out battery storage across its network to create a 150MWh virtual power plant. The UPS at Telia's Helsinki data center is connected to the Finnish grid to offer load balancing.