Delta Air Lines and IBM have announced a multi-year agreement to move most of the airline's applications out of its own data centers and into the public cloud.
Delta today operates mostly out of on-premises data centers. But Narayanan (KK) Krishnakumar, the company's CTO, told DCK this week that by the end of 2024 it expects to have migrated 90 percent of its applications and databases to the public cloud.
For more breaking data center news, features, and opinions, be sure to subscribe to DCD's newsletter
Delta picks IBM for migration help, hasn't specified to which cloud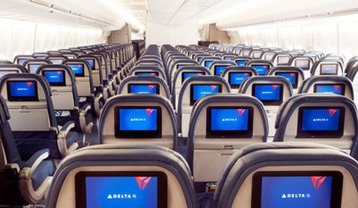 The airline will continue to operate its own data centers even after it reaches that migration target, but will have a much smaller data center footprint, with each site being more of a 'data room' than a data center.
According to the WSJ, the migration will involve hundreds of software applications, including Delta's flagship "Fly Delta" mobile application, its internal contact center software, baggage tracking system, and more, but won't include its ERP infrastructure for the time being.
The partnership, first announced last month, will see IBM help Delta hybrid cloud architecture built on containers and Red Hat OpenShift. Though IBM has its own public cloud offering, Delta has not yet announced who its main cloud service provider will be, but reportedly plans to take a multi-cloud approach, Krishankumar told DCK.
"As one of many integral steps we are taking to advance our digital business transformation, IBM will help us migrate to the cloud and create a new operating model that will transform and modernize our technology platform," said Rahul Samant, executive vice president and chief information officer at Delta Air Lines.
"This long-term project will apply the power of IBM's hybrid cloud approach, enabling Delta to develop applications once and deploy them anywhere, integrate security across the breadth of their IT estate, and automate operations with management visibility," added Mark Foster, SVP, IBM Services.
Outages for airlines can be costly. Delta suffered an outage in 2017 that led to at least 250 flights being canceled, and in 2016 more than 2000 flights were canceled after what it claimed was a system-wide network power cut. The outage cost the company an estimated $150 million. In 2019 an outage with the AeroData software used for flight planning lead to the likes of Southwest, United, JetBlue, Alaska, and Delta all canceling flights.