Latvian data center firm DEAC has moved to become a green company and switched to renewable energy for its data centers.
The company says it now uses 100 percent renewable energy from wind farms in Northern Europe.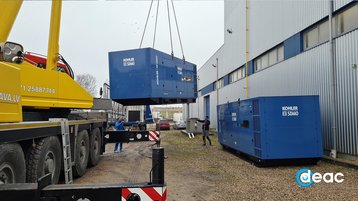 "We have already improved energy efficiency by upgrading cooling systems, adding chillers, and creating new cold-hot aisle solutions in the server rooms. Using 100 percent renewable energy resources, DEAC, as a socially responsible operator of data centers, contributes to the environmentally friendly and sustainable development of the business," said Andris Gailitis, DEAC Chairman of the Board.
Owned by a Swiss investment infrastructure fund managed by Quaero Capital, DEAC offers colocation services out of facilities in Latvia's capital Riga and Vilnius in Lithuania.
DEAC owns two 2.3MW and 0.4MW data centers in Riga and while its third facility in Vilnius has 4MW of capacity with an additional 400 racks under construction.
Earlier this year the company announced a €1 million investment plan to become more energy-efficient and prepare for the EU's 2030 climate-neutral requirements. In January, DEAC added two Kohler-SDMO generators and expanded cooling equipment with Vertiv Liebert HPC Chiller and CRAH equipment to improve PUE performance.