European cloud and colocation specialist DEAC is about to start construction of its third data center in Riga, Latvia.
The 4MW facility is expected to open in 2018 and will establish DEAC as the largest commercial data center operator in the Baltics, in terms of rack space.
"One should take into consideration that CIS countries are still a rather unexplored market with many companies still not taking advantage of data center services," said Andris Gailitis, CEO of DEAC.
"Whereas for the US region we are attractive thanks to Europe's well developed communications network and the experience we have gained with customers from CIS countries. All together this provides US companies with a bridge from Europe for further developing their business in Russia."
In the middle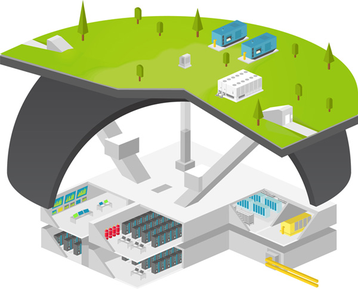 DEAC runs two data centers in the Latvian capital, and leases space in London, Frankfurt, Amsterdam, Moscow and Kiev.
Its first data center - Grizinkalns - was built in a disused Soviet bunker, buried 12 meters under the ground and covered by a 1.5 m thick lead dome. During the Cold War, the site used to serve as an army command point and it remains something of a landmark.
While Grizinkalns helped put the company on the map, it only had a capacity of 80 racks. The upcoming data center will offer 400 racks, with a promised uptime of 99.98 percent.
The project is expected to cost €10 million.
"After more than ten years of experience in foreign markets, we have achieved recognition as a secure and premium service provider on a regional scale. We have also succeeded in positioning Riga as one of the most attractive places for data storage in Europe. We are developing our infrastructure to provide customized, complex IT solutions and unlimited infrastructure capacity for fast growing projects on a world-class level," Gailitis said.