The DE-CIX Internet exchange set a new world record for data throughput on Tuesday evening as people shift online due to the novel coronavirus, Covid-19.
At the same time, one of the world's most popular video game franchises launched a free, download-only entry in its long-running series, taxing networks further. Call of Duty: Warzone has a download size of 80-100GB, and is online only.
Work remotely, if you can
The Frankfurt exchange experienced more than 9.1 Terabits per second of data throughput, trumping its previous record of 8 Terabits-per-second in December. The company also operates exchanges in Europe, India, the Middle East, Asia, and the USA.
"This record confirms that DE-CIX in Frankfurt, and with it the metropolitan region FrankfurtRheinMain, is one of the most important data hubs in the world," Dr. Thomas King, DE-CIX CTO, said
"Added to this is the fact that as a result of the season, as well as the exceptional situation that people are currently experiencing with the Covid-19 virus, Internet use is playing an ever-greater role. Whether it's for exchanging information, streaming films, or playing online games. Guaranteeing a stable and secure Internet infrastructure - regardless of how challenging the times are - is one of our highest priorities."
In a statement, DE-CIX spokesperson Carsten Titt told DCD: "Our teams are currently investigating how data and Internet usage is changing. We will share this in due course."
The company itself is also preparing for the Covid-19 outbreak, Titt said: "We are taking the current situation with the Covid-19 situation seriously, as the health of our customers, employees, and their families is our priority.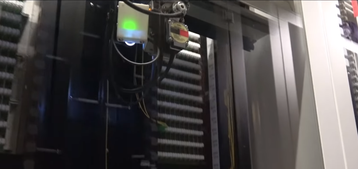 "We are in close contact with local authorities and will adjust our actions and measures as needed going forward. DE-CIX has already implemented precautionary measures, such as canceling business trips to high-risk areas and a no hand-shake policy. DE-CIX has prepared business continuity plans for the case that employees are infected by covid-19, or the cities where we have operations are locked down."
Titt added: "The business continuity plans are regularly reviewed and adjusted as the covid-19 situation develops. The plans focus on reducing the risk of infection for our customers, employees, and their families, and at the same time keeping our interconnection services up and running. If needed, DE-CIX will reduce its service offerings in such a way that new customer provisioning will be delayed in order to maintain the operation of the existing Interconnection services.
"To a large extent, the DE-CIX global interconnection platform is automated so it can be monitored and maintained remotely (e.g. we run patch robots for connecting cables). This means that manual physical intervention in data centers is only needed in rare cases, and this can be delayed if necessary."
When asked how long DE-CIX's operations could run without human intervention, should the unlikely scenario arise, Titt said: "As we have an interconnection ecosystem across 23 IXs globally we can consider it as being most robust - even without physical intervention in some parts."