Australian data center firm DC Two has sold a modular data center to an energy firm.
Joule Energy has agreed to purchase a modular unit for AU$482,000 (US$359,000). Based in Adelaide, Joule develops renewable energy projects across Australia.
DC Two will deliver the module, capable of powering around 800kW of IT and server equipment. The module will include empty racks, power distribution, cooling, internal networking, hardware, security, fire detection and remote monitoring sensors.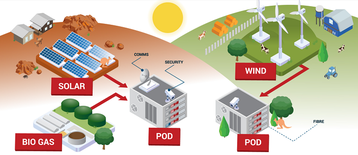 "While selling individual DC modular units is currently not a corporate priority, the company will harness this opportunity to investigate the commercial viability of this revenue stream to understand if selling standalone units to customers, locally and globally, could provide significant recurring revenue from these sales in the future," DC Two managing director Justin Thomas explained.
The data center will be deployed 'behind the meter' at Joule's renewable energy site in Melbourne's west. DC Two aims to deliver the modular facility on-site by January 2022.
Both companies are working towards formal agreements relating to installing multiple DC Two owned-and-operated data center modules at the site.
According to DC Two's website, its modular campus in Victoria is colocated on a Biomass facility and powered by energy directly from nearby waste storage. The company said the campus will have an initial capacity of 2MW with the ability to expand to 5MW.
The company has two other modular campuses in development on a solar farm in Collie, Western Australia, and a wind farm north of Perth.
DC Two opened its Bibra Lake data center in Perth earlier this year and operates another facility in the nearby Osborne Park.