DataVita is expanding its flagship Fortis data center outside Glasgow, Scotland.
The company said this week it is investing £8 million ($9.3m) in expanding the facility by around 400 racks and 500 sqm (5,380 sq ft). The expansion of Fortis is part of the second phase of DataVita's long-term fit-out of the facility, with the company completing the first phase in 2017.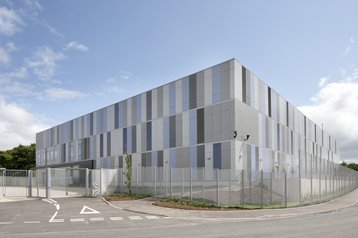 Danny Quinn, MD of DataVita, said: "The expansion of Fortis is part of our long-term plan for the facility and underlines our commitment to providing the best and most energy efficient data services to private, public, and third sector organizations across Scotland."
"The additional capacity at Fortis will ensure we can support more organizations with their IT infrastructure, along with our own growth and plans to make the facility even more efficient in the future."
Located outside Glasgow, the Fortis facility is a Tier-III certified data center offering four 1,000 sqm (10,700 sq ft) data halls across two connected buildings at full build-out. It was built in 2021 by HFD Group.
The expansion will add an extra 400 racks to the data center, taking Fortis up to 1,500 sqm (16,145 sq ft) of technical space. DataVita said the expansion opens up the opportunity provide a further 3,000 sqm (32,300 sq ft) at the facility.
DataVita has operated the data center since 2016 and was the facility's first occupier. The company took ownership of the facility from a syndicate of private investors in a deal made last year with '£45 million ($63.1 million) of support' from DataVita's owner HFD Group.
The facility has a PUE of 1.18, and last year DataVita became the first Scottish IT company to sign the Climate Neutral Data Centre Pact. The company plans to take the facility off-grid, generating its own electricity from wind and battery-powered back-up systems.
DataVita is part of HFD Group, a Scottish commercial property and investment company.
Earlier this year the company said it was opening a small data center at 177 Bothwell Street, a newly developed 14-story, 313,000 sq ft (29,000 sqm) property billed as 'Glasgow's largest single office building.' The company will be offering up to 130 racks worth of space on the site, with the new data center expected to be operational by Q3 2022.
More in Construction & Site Selection