The Globe Building carrier hotel in St. Louis, Missouri has some data center space available for lease.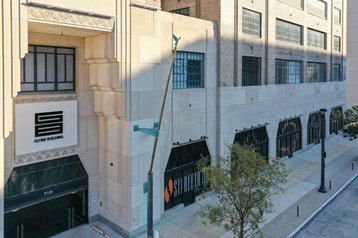 Listed by Five 9s Digital, 28,700 sq ft (2,666 sqm) of floor space - 16,000 sq ft of which is built-out data center space - is available on the fourth floor of the building at 710 North Tucker Blvd. Given its size and location, it is likely to be suite 420 that is available, previously a suite operated by Hostirian/Rivercity Internet.
According to the brochure, the hall is connected to the Globe Building's carrier-neutral meet-me-room by 6-4" conduits, providing access to the 12+ fiber providers in the building. The building is designed to take floor loads of up to 250lbs per sq ft, and draws its power from Ameren's largest substation in St Louis.
The data center suite features 2,000 amps of main utility disconnect and a 1,600 amp automatic transfer switch. There is a 1,375 kVA Onan Genset. It is currently home to 50 in-place connect cabinets and features Lucent PDUs and distribution boards.
Located at the intersection of Lucas Street and N Tucker Boulevard in St Louis, the Globe Building is a seven-story, 550,000 sq ft building that currently houses around 150,000 sq ft of data center and telecommunications tenants, and claims to be the largest carrier hotel in the region. Those tenants include H5 Data Centers which leases 36,000 sq ft (3,350 sqm), surgical robotics company Stereotaxis, and sales platform MoreAble.
Originally built in the 1920s and listed on the National Register of Historic Places, the Globe Building has been used by the Illinois Terminal Railroad, the Globe-Democrat printing press, and the Aeronautical Chart and Information Center. The carrier hotel is currently owned by Steven Stone, founder and president of law firm Stone, Leyton & Gershman.
LoopNet is also listing office space for lease at the Globe Building on the first, second, third, fifth, and sixth floors.