Internet users in Asia and Africa suffered from slower performances earlier today after the SEA-ME-WE-5 subsea cable was severed.
The cable was severed on land in Egypt, with the Pakistan Telecom Authority highlighting the cable cut through Twitter.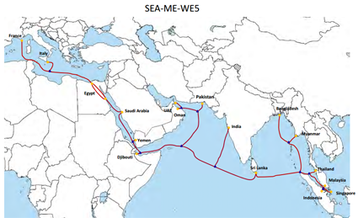 The Register was the first to report on the outages, which had impacted a number across Asia and Africa, although this has since been repaired, confirmed the PTA.
Earlier in the day, the PTA noted that the dual cut happened in the "terrestrial segment of the SEA-ME-WE-5 cable between the cities of Abu Talat and Zafrana".
Meanwhile, NetBlocks revealed that several countries including Indonesia, Djibouti, Eritrea, and Yemen suffered disruption to Internet services.
The SEA-ME-WE-5, which stands for South East Asia - Middle East - Western Europe 5 Submarine Cable System, was completed in 2017 and connects from Europe to Singapore across 20,000km.
It was built with a design capacity of 24 Terabits per second and provides 100Gbps technology to consumers and businesses in Southeast Asia countries such as Singapore, Malaysia, Indonesia, Thailand, and Myanmar.