Dubai property firm Damac is planning a new data center in Amman, Jordan.
Damac Data Centers this week announced it has signed a long-term agreement with the King Hussein Business Park in the capital city.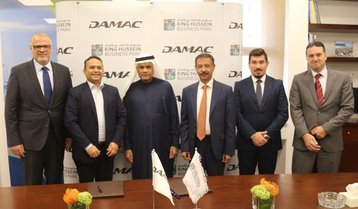 Details of facility specifications weren't shared, with Damac saying investment details would be shared shortly.
"Jordan holds a unique position with accessibility spreading across the Middle East and Africa, with clear aspirations for foreign investment and digital growth. The country also has a young population and a lot to offer in terms of technological innovation. We are excited to be investing in Jordan, and we look forward to supporting the growth of its digital economy," said Hussain Sajwani, founder and chairman of Damac Group.
Previously known as Edgnex, Damac Data Centers is currently developing data centers in Riyadh and Dammam in Saudi Arabia.
Mansour Al-Jobour, chairman of King Hussein Business Park, said: "We are delighted to welcome the Damac Group to the King Hussein Business Park to develop a new data center. Damac has a track record of success in the region and worldwide, and this investment will offer a range of services to support businesses and government organizations in our country. It will also create job opportunities in the technology sector, which will contribute to the development of the country's economy."
The company broke ground on a 20MW data center in Riyadh, Saudi Arabia last year. The 17,720 sqm (184,000 sq ft) site is set to go live in Q4 2023, with the Dammam facility going live at the same time. According to a LEED filing, the Dammam facility will span 12,320 sqm (132,590 sq ft) across three floors. It has also received an Uptime Tier III design certification.
The company is reportedly planning more facilities in Saudi Arabia and has previously hinted at potential developments in Spain, Italy, and Germany.
In Ireland, Edgnex was set to build a data center campus that could reach 70MW+, on a greenfield parcel of land bought jointly by Damac and Dataplex in Abbotstown, near Dublin. However, Dataplex has since liquidated after Eigrid denied the company power contracts at two data center sites.
Jordan has a small data center market in Ammam, including the Zain Bunker in the King Hussein Business Park as well as facilities operated by iLevant and Vtel.