Damac-backed Edgnex Data Centers has signed a new partnership agreement to develop a data center, and Cinturion a cable landing station (CLS), outside Jeddah in Saudi Arabia.
Edgnex this week signed an agreement with local telco Integrated Telecom Company (aka Salam), fiber firm Cinturion Corp, and Emaar, The Economic City, for new telecoms and digital infrastructure.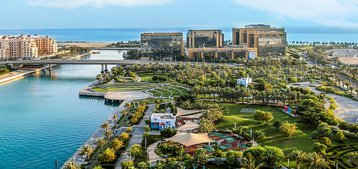 The four have signed a strategic Memorandum of Understanding (MoU) agreement to develop digital infrastructure hub, including initiatives such as an international submarine cable project, data centers, fiber infrastructure, cloud, and Internet, in the new King Abdullah Economic City (KAEC).
Details of what might be built and on what timelines haven't been shared.
Part of the UAE property firm Damac Group, Edgnex (aka Damac Data Centres) is building facilities in Dammam and Riyadh, which will deliver 55MW by 2025. The company is also planning a data center in Amman, Jordan.
"We are not just building world-class data centers, we are aiming to create and innovate hyper-connected digital hubs with highly secure facilities and connectivity to give customers direct and reliable access to the Kingdom of Saudi Arabia's digital economy," said Aqil Jaffer Ali, SVP at Damac Group. "We are supporting Saudi Vision 2030 and this is another great milestone for our business in the KSA."
Cinturion is a fiber network solutions provider. The company is currently building its TEAS – Trans Europe Asia System – a multi-cable system running between Europe and India.
In Europe, the system will comprise a pair of submarine cables – Med West (MW) and Med East (ME) – running from Marseilles, France, and Bari, Italy to the Eastern Mediterranean coast. From there, one route will run south through the Red Sea, and the other through the Persian Gulf and Gulf of Oman, both landing in Mumbai, India.
Landing points for the south branch of TEAS include Duba and Thuwal in Saudi, Djibouti City in Djibouti, and Salalah in Oman. The north branch will land at Ras Al Khair in Saidi, Abu Dhabi in the UAE, and Barka in Oman.
"We are excited to team up with Salam, Edgnex Data Centers, and KAEC to explore establishing an open-access carrier-neutral cable landing station in KSA," said Greg Varisco, Cinturion CEO. "Their trust in Cinturion's management team and our international network reinforces our dedication to provide their customers with greater connectivity and global reach."
Emaar, The Economic City (EEC) is the master developer of King Abdullah Economic City (KAEC); a new 185 square kilometer city located on the Red Sea coast north of Jeddah.
"Our partnership with Salam, Edgnex Data Centers, and Cinturion is another step towards making KAEC one of the world's leading digital hubs. This collaboration will greatly contribute to our city's reputation as a vision-ready platform, making KAEC an ideal destination for the latest and greatest up-to-date digital infrastructure technology. It reinforces our commitment to continuing the city's growth in its role as an ultramodern ecosystem that has all the ingredients of a national economic enabler," said Cyril Piaia, CEO of KAEC.
Founded in 2005, Salam is part of the Saudi Mawarid Holding conglomerate, offering 5G, fiber, hosting, Internet, and TV services. The company reportedly operates six data centers (Jeddah, Riyadh, and Dammam), two cable landing stations (in AL Khobar and Jeddah), and a 17,000km fiber network across the country.
"As a recognized telecom & ICT Service provider, Salam is delighted to participate with distinguished parties in this strategic initiative," said Ahmed Al-Anqari, Salam CEO. "Creating an Integrated Digital Hub enables multi-services to all targeted customers national and globally from one place."