The Compute Express Link (CXL) Consortium and Gen-Z Consortium have signed a memorandum of understanding to partner.
CXL and Gen-Z are read and write memory semantic protocols focused on low latency sharing of memory and storage resource pools for processing engines like CPUs, GPUs, and FPGAs. CXL focuses on enabling coherent node-level computing, whereas Gen-Z focuses on fabric connectivity at the rack and row level.
The standards bodies will promote interoperability between their technologies, and further developing complementary capabilities of each technology.
The MoU outlines the formation of common workgroups between both organizations to provide cooperation, defining bridging between the protocols while focusing the strengths of both technologies.
United together against PCIe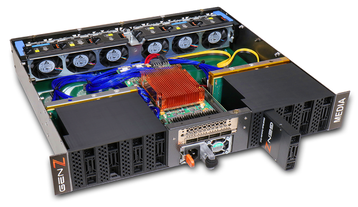 "CXL technology and Gen-Z are gearing up to make big strides across the device connectivity ecosystem. Each technology brings different yet complementary interconnect capabilities required for high-speed communications," Jim Pappas, CXL Consortium board chair, said.
Gen-Z Consortium President Kurtis Bowman added: "CXL and Gen-Z technologies work very well together, and this agreement facilitates collaboration between our organizations that will ultimately benefit the entire industry. We are excited for this new development toward advancing next-generation architectures."
Both groups are developing open technologies that can be used without a license fee. With PCIe data transfer rates not keeping up with the demands of servers, several groups have formed to build a suitable successor. In addition to CXL and Gen-Z, there is also the CCIX (Cache Coherent Interconnect for Accelerators) and OpenCAPI (Open Coherent Accelerator Processor Interface) consortia.
Currently, CXL has the most support from large vendors: With AMD, Arm, IBM, and Intel all members, along with Alibaba, Cisco, Dell EMC, Facebook, Google, HPE, Huawei and Microsoft.
Gen-Z counts AMD, Arm, Cray, Dell EMC, HPE, Huawei, Samsung, and Xilinx among its members, but does not include Intel.