IBM Cloud now offers 2nd Gen AMD Epyc chips in its bare metal servers.
The servers are currently being rolled out across IBM data centers in its North America, Europe, and Asia Pacific regions.
Dual socket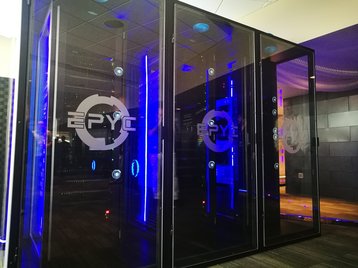 The Epyc 7642 dual socket bare metal server includes 96 CPU cores per platform, with a base clock frequency of 2.3GHz and a boost of up to 3.3GHz. The servers have 8 memory channels per socket, up to 4TB memory configuration support, and up to 24 local storage drives.
"With these new processors, we can offer IBM Cloud clients greater choice and flexibility to select the platform that is best suited to meet the needs of today's most demanding workloads," Satinder Sethi, GM of IBM Cloud infrastructure services, said.
Forrest Norrod, SVP and GM of data center and embedded solutions at AMD, added: "2nd Gen AMD Epyc processors deliver where it counts for cloud providers, providing the cores, scalability and throughput for critical workloads."
After years of middling success with its x86 CPU line, AMD has managed to score large customer wins and market share from rival Intel since the launch of its Epyc processor line.
The First Gen ("7001 Series") Epyc saw AMD gain a foothold in the low single-digits, while new Rome Epyc processors were launched in Q3 of last year. The third-generation "Milan" Epyc processors are on track to be unveiled in the second half of this year.
In its latest quarterly earnings, AMD's revenues jumped 49.9 percent year on year to $2.13 billion.