Internet services in Cuba have been disrupted due to a fiber cut in the capital city of Havana.
State monopoly, the Cuban Telecommunications Company (ETECSA) said that it was "working to resolve the situation."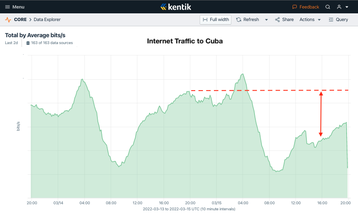 "Cuba is experiencing a moderate disruption to Internet connectivity, attributed by state operator ETECSA to a fiber optic cut on a public road in Havana resulting in slow speeds and intermittent access," Internet outage monitor NetBlocks said.
The Havana cut has impacted services across the island nation.
"Our technicians and specialists are working to restore this interruption as soon as possible," ETECSA said. "We apologize for any inconvenience this may cause."
The state-owned telecommunications company provides Internet services to Cuban citizens, but they have to obtain a permit to operate a private WiFi network in their home or business.
The Cuban government restricts access to websites, and other US platforms block Cuban users due to sanctions, but many still access blocked sites using VPNs.
Last year, Cubans protested shortages of food and medicine using social media and messaging platforms to help organize gatherings. At the peak of the protests, the country shut down the Internet.