Work on a new data center for South Korean Internet company Kakao is finished.
The company this week announced the Kakao data center in Ansan, Gyeonggi, South Korea is complete and will be ready for full operations next year.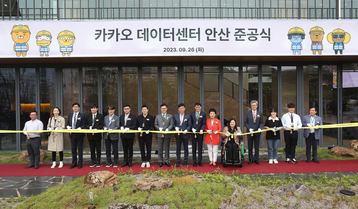 The company's first in-house data center, Kakao Data Center Ansan, is capable of housing 120,000 servers and is located on Hanyang University's Erica campus around 30km south of Seoul, spanning 47,378 sqm (~510,000 sq ft) of data center space.
The data center first partially opened in 2021, but as of September 26 has officially finished construction. The facility is expected to be fully operational from Q1 of 2024.
The facility has been designed to withstand natural disasters such as fires, earthquakes, and floods.
According to the company, the data center features renewable energy infrastructure as well as rainwater, gray water, and heat recycling systems.
"Kakao's data center, which perfectly responds to any disaster or accident, will be an important cornerstone of Kakao's commitment and promise to protect everyone's normal daily lives with stable services," said Kakao CEO Hong Eun-taek.
Kakao first announced plans for the data center in 2020, stating at the time that it would be investing around 400 billion won ($336.6m) into building the facility. The motivation for developing an in-house data center was to provide the company with a "stable foundation" for research and development into technology including big data and artificial intelligence, as well as to launch its corporate cloud service.
According to the company, Kakao plans to continually expand its data center and will maintain and expand its existing leased data center space.
Kakao experienced a significant outage in October 2022 due to a fire caused by lithium-ion batteries at an SK Group data center. The outage led to a government investigation and police raids. Kakao was required to implement an emergency response system and compensate businesses and users that were impacted by the fire.