British IT reseller Computacenter warned that supply chain issues are impacting its data center component sales.
In its latest quarterly earnings report, the company said that sales rose 29.2 percent to £3.18 billion ($4.4bn) and profit before tax jumped 59.1 percent to £115.2m ($159m).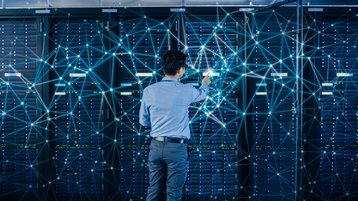 "In the US business, the mid-market customers who materially reduced spend during H1 2020 returned during the period and, coupled with the continuing success in hyperscale data center-based customers, drove good overall organic revenue and profit performance," Mike Norris, Computacenter's CEO, said.
However, he added: "What has certainly influenced our business in the first half, and will continue to affect us until at least the end of the year, is the shortage of many Technology Sourcing products. This particularly affects network and workplace lines of business, but we are also starting to see major problems in the supply of data center components. The current order backlog has been around 70 - 80 percent above the average of recent years for several months."
The wider IT industry has been struggling with supply chain issues since the Covid-19 pandemic, with semiconductors increasingly hard to come by. Other components have also been impacted.
Last month, the CEO of cloud networking company Arista Networks said that the shortage was "the worst I've seen it."
And there have been some pretty big ups and downs in my career of several decades... and I think it's also going to be prolonged."
Jayshree Ullal added: "Everything from copper shortages to wafer starts to assembly to manpower, people, logistics, freight. Just about every aspect of it is challenged, too."
Semiconductor manufacturers have said that some of the most extreme shortages may be alleviated in the months to come, but the wider supply shortage could last years.