Compass Datacenters has bought land in Milan, in partnership with real estate firm Hines, for a 48MW data center campus. This is Compass's first foray into Europe.
The two companies have bought 2.3 million sq ft (210,000 sq m) of land at Noviglio about 14km southwest of Milan, and plan to build a campus that will eventually support more than 48MW of IT load. It will be Compass's first project in Europe, and the first European data center for global property business Hines.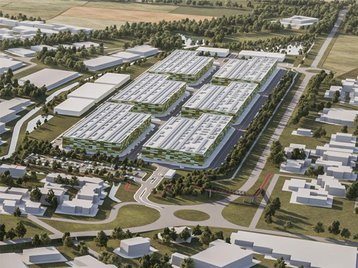 Construction is due to begin in 2023.
The deal will be delivered with help from land developer and logistics firm Develog, according to Corriere della Sera, which also reports that the project will have a covered area of more than a million sq ft (95k sqm), and is likely to grow to be larger than the 48MW mentioned in Compass's release. Corriere della Sera says the project has already obtained an electricity connection from local utility Terna which can go up to 100MW.
"Building our first European campus in Milan is a major step in Compass' global expansion strategy. Its geographic location, undersea cable connectivity, robust fiber availability and affordable power makes it an ideal location for hyperscalers," said AJ Byers, president and chief development officer at Compass Datacenters. "Hines' vision for Italy aligns with our own, and our combined resources should accelerate the timeline for customer availability."
Mario Abbadessa, senior managing director and country head, Italy, at Hines, added: "This first investment into the Italian and European data center market establishes a new area of development for Hines, representing significant opportunities in a high-growth sector. The Italian data center market is becoming a leading destination for cloud providers with growing capacity requirements commonly referred to as hyperscalers, with $2.6 billion projected to be invested by 2026. Milan's high level of network connectivity and the region's multiple submarine cable termination points were key elements in both companies' mutual identification of the Novigilio site as an ideal data center campus location in Milan's supply-constrained market."
The partners said that they would use "sustainable construction methodologies," including materials with reduced GHG emissions, renewable fuel generators, and low waste construction.
Italy has become a hot location for data centers, with many of them arriving in Milan. In recent months, Google has announced a Milan region, and Stack has opened its third data center in the Milan area. SuperNAP Italia, the Stack-founded venture, owned by IPI partners, has also expanded with a second data center in Milan.