Cologix has broken ground on a new data center in Montréal, Canada.
The company this week announced that it has started construction of its latest Scalelogix-brand facility in Quebec.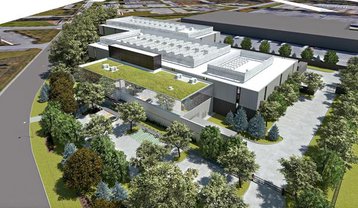 Located in Technoparc Montréal, the MTL8 facility will span 205,000 square feet (19,045 sqm) and offer 21MW of power. Currently being built by CML Construction with completion expected by mid-2024, MTL8 will use renewable energy power from Hydro-Québec.
"We are thrilled to launch our newest data center in Montréal Technoparc," said Daniel Laurin, EVP of engineering and client solutions at Cologix. "With its sustainable design, unparalleled connectivity, and strong interconnection capabilities, MTL8 is well-positioned to serve as a critical hub for businesses in the region and beyond. We look forward to supporting our customers' growth and success with this exciting new facility."
Stonepeak-owned Cologix has 11 data centers totaling around 1 million sq ft (92,900 sqm) in operation or development around Montreal.
The company announced its new Scalelogix hyperscale brand last year, rebranding three of its data centers in Columbus, Ohio, and Montreal under the new moniker and announcing three more in Ashburn, Virginia; Columbus, Ohio; and Silicon Valley, California. It later announced another Scalelogix facility was to be built in Toronto in partnership with CIM Group.
In Montreal, MTL9 and 10 are also under the Scalogix logo, offering a combined 300,000 sq ft (28,870 sqm) and 60MW.
"We are ecstatic to be the chosen builder of this LEED Gold-certified data center located in the prestigious Technoparc of Ville Saint-Laurent," said Francesca Mancini, vice-president and partner of CML Construction. "We want to thank Cologix for having the confidence in our team to construct this state-of-the-art facility."