Chinese data center developer and operator GDS Holdings has filed with the SEC to raise up to $200 million in an initial public offering (IPO).
With a 15 year history, the company has over 48,000 sq m (516,667 sq ft) of data centers in service, and plans to add another 31,000 sq m (333,681 sq ft) of capacity.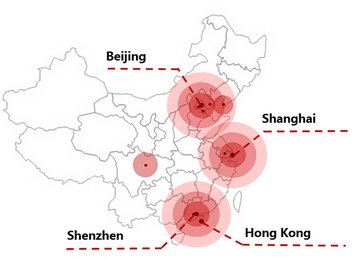 A growing company
Shanghai-based GDS made $127 million in sales in the year ending June 30, 2016, and operates its core regions in Beijing, Shanghai and Shenzhen. 
In 2012, GDS partnered with Softbank China Venture Capital to develop a vCloud cloud service based on VMware platform, and then Elastic Cloud Computing (ECP) platform. The next year it announced plans to invest $200 million in two Hong Kong facilities.
In 2015, GDS rolled out services to suit Chinese customers expanding abroad, presenting its CloudMix service at Interop in Las Vegas. Its growth at home follows a trend seen at several Chinese data center companies, with the region as a whole continuing to grow rapidly.
The company will list on the Nasdaq under the symbol GDS. Credit Suisse, J.P. Morgan, Citi, RBC Capital Markets and China Renaissance are the joint bookrunners on the IPO filing deal. 
Singapore Technologies Telemedia acquired a 40 percent stake in the company back in 2014 as part of a partnership that saw GDS expand its portfolio.
Other investors include SB China Venture Capital (SBCVC), International Finance Corporation (IFC) and a subsidiary of China Everbright.