Chayora Holdings Limited has appointed a new CEO.
The international investor, and developer and operator of hyperscale data center campuses in China, has appointed James Wei as its new chief executive officer.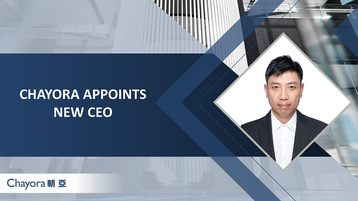 Chayora Holdings Ltd is based in the Cayman Islands and is the holding company of Chayora Limited, headquartered in Hong Kong which develops data centers in China.
Wei joins the company after previously being CEO of video & AI company XForwardAI, and prior to that working for 22 years at China Telecom in a variety of senior executive roles, both in China and the US.
Wei said in an official statement: "The development of digital China and artificial intelligence provides a strong driving force for IDC's next development. I'm excited to join Chayora at this moment and lead the team to provide world-class services to Chinese customers, making Chayora an important force in the IDC [Internet data center) market."
Wei will be joined by Wing Dar Ker who will lead Chayora's government relations, and who previously held the CEO role at BlueCloud, the cloud services arm of 21Vianet.
Chayora's co-founders Oliver Jones (former CEO) and Jonathan Berney will step back from full-time executive roles and will continue to support the company as board advisors.
Chayora chairman and EdgeConneX CEO Randy Brouckman said of the new appointments: "We look forward to an exciting new chapter for Chayora as it focuses on the immediate and growing China market opportunities. Given James' extensive commercial experience and relationships in China together with his global leadership experience, we are well positioned to realize the great potential Chayora and the China market continue to offer."
The company operates hyperscale data center campuses in Tianjin and Taicang in China. Charoya completed construction of the first data center at its new Shanghai campus in China, in October 2022. The facility is expected to be ready for service in 2023, and EdgeConneX will also offer Edge computing services from the location once it is live as part of the company's 2021 investment in Chayora.
Chayora also received $180m in funding from the Actis Asia Real Estate Fund in 2019.