After agreeing a partnership last year to work on scalable high-performance infrastructure, Cavium and QLogic are set to permanently join forces. Cavium has announced plans to purchase its competitor for $1.36 billion through a combination of cash, debt and stock.
The acquisition of QLogic, which makes adapters, switches and other networking products, is expected to boost Cavium's 2017 adjusted earnings per share by 60 cents to 70 cents. The transaction has been unanimously approved by both companies' boards of directors, and is expected to close by the third quarter of this year pending regulatory approval.
Only qlogical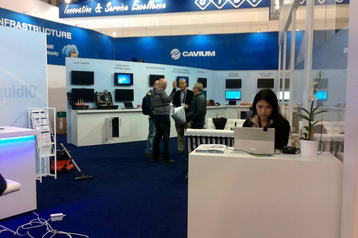 "QLogic with Cavium is a winning combination for customers and employees and is financially compelling for QLogic shareholders," said Christine King, executive chairman of QLogic.
"The scale of operations of a nearly $1 billion revenue business will allow the combined company to deliver better solutions for customers and create more career opportunities for employees. Shareholders will benefit from both the immediate premium, as well as the opportunity to participate in the long-term value creation from the combined company's strong growth prospects."
Cavium's CEO Syed Ali also chimed in, saying: "QLogic's industry leading products extend our market position in data center, cloud and storage markets, and further diversifies our revenue and customer base.
"In addition to the compelling strategic benefits, the manufacturing, sales and operating synergies will create significant value for our shareholders."
The purchase will be funded with a combination of $220 million in cash, a $650 million loan and $100 million of short-term bridge debt, as well as $400 million in new Cavium equity. The transaction includes the approximately $355 million in cash on QLogic's balance sheet.
$45 million of annualized cost synergies are expected to be realized by the end of 2017. Shares of QLogic were up nearly 13 percent on the news, while Cavium's were down four.