Data center and healthcare investment trust Carter Validus REIT Management has bought a data center in Hartford, Connecticut for $5.2m.
Built on a half-acre (approximately 21,800 square feet) property, the data center's 19,347 square feet (1,797 sq m) are already fully leased by an unnamed subsidiary of a global telecommunications provider.
The tenant is said to have renewed its lease for a period of twelve years starting in January 2018; and has replaced equipment and begun renovating the facility.
While the name of the tenant was kept anonymous, the facility's size matches that of one at 1 Gold Street, Bushnell Plaza. Carter Validus also noted that the building includes a display area on the roof for sculptures by local artists - which could well describe the Bushnell Plaza Sculpture Garden. A 2015 sales document lists Verizon as offering data center services from that location.
Making safe bets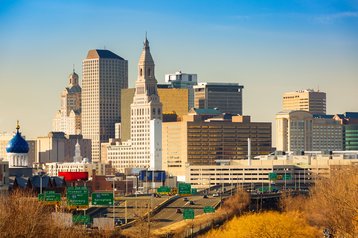 CV REIT Management CEO Michael A. Seton called the acquisition proof of the trust's ability to "consistently source long-term, stable cash flows in the mission critical data center space" whilst expanding its physical footprint.
Though it operates under a similar moniker to Carter Validus MC REIT and Carter Validus MC REIT II, the Tampa-based trust is an affiliate of the other two funds, together forming a private commercial real estate investment company.
In October, it acquired another data center in St. Louis, Missouri for $3.2m, which was also fully leased – ostensibly by the same tenant occupying the Hartford facility.
Meanwhile, Carter Validus MC REIT sold off the last of its data centers in August, which Seaton said was "consistent with our strategy of pursuing liquidity for our data center assets," once a portfolio worth $2.3bn.
Its successor, Carter Validus MC REIT II, continues to invest in data centers, of which it has 28 in total. These include facilities in in San Jose, Andover, Chicago, Sacramento (California), Elgin (Illinois), King of Prussia (Pennsylvania), Norwalk (Connecticut), Atlanta (Georgia) and Tempe (Arizona).