Singaporean investment firm CapitaLand has acquired a Digital Realty data center in London, UK
CapitaLand Ascendas REIT Management Limited, the manager of CapitaLand Ascendas REIT, this week announced the completion of the acquisition of a colocation data center from an 'unrelated global data center operator' for £125.1 million ($159m). The company said the property is situated in Watford, just north of London.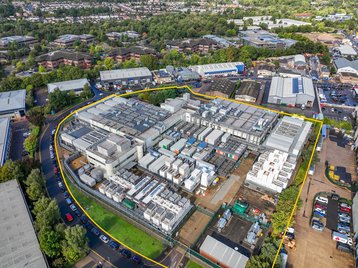 The property is likely the Chess Building, a 31MW data center set on a 25,000 sqm (269,100 sq ft) plot. Operated by Digital Realty, the two-story building offers 8,400 sqm (90,400 sq ft) of lettable space. Digital hasn't commented on the deal.
The deal will be financed via a combination of debt financing and proceeds from a previously-announced equity fundraising.
The deal increases the number of data centers in London owned by CapitaLand Ascendas REIT to five – all acquired from Digital Realty in recent years. The company said the property is 80 percent occupied by five investment-grade tenants operating in information and communications technology, retail, energy, and financial services.
William Tay, CEO and executive director of CapitaLand Ascendas REIT Management Limited, said: "As the demand for cloud and digital services continues to rise, we are capitalizing on favorable market dynamics to significantly scale up our presence in the data center sector. London ranks among the top three global data center markets and is also Europe's largest colocation data center market."
Tay continued: "Given its strategic location and Tier III specifications, along with its robust tenancy, the property will serve as a strong catalyst in delivering additional value to the REIT."
Built in 2008, Digital took over ownership of the Chess Building in 2012 as part of a three-building portfolio acquired from Sentrum.
In the UK, CapitaLand Ascendas REIT (formerly known as Ascendas Real Estate Investment Trust) owns a Colt DCS-occupied facility in Mundells, Welwyn Garden City; a facility in Prologis Park, Croydon that was previously a Sentrum data center; another at 1 Coronation Road in High Wycombe; and Reynolds House in Manchester that was previously leased to Equinix but recently taken over by Lunar Digital.
All four of CapitaLand's existing UK data centers were acquired from Digital Realty in 2021 as part of an 11-facility European portfolio.