A fiber optic cable in Virginia was accidentally cut during roadworks, bringing down the Commonwealth's online voter registration system for several hours.
The incident, on the last day people could register before the November general election, has led to a lawsuit from The Lawyers' Committee for Civil Rights Under Law. The civil rights organization says that voter registration should be extended by 48 hours due to the outage.
One single cable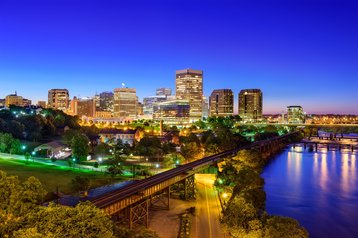 Construction workers on Route 10 accidentally severed an underground Verizon cable on Monday, during a sewer expansion project. The cable linked to the Commonwealth Enterprise Solutions Center, the headquarters of the Virginia Information Technologies Agency (VITA), which provides IT services to local government websites.
"Data circuits and virtual private network (VPN) connectivity for multiple Commonwealth agencies" were brought down, VITA said in a statement. "Technicians continue to work diligently on a resolution. The team has learned that the fiber was inadvertently struck as part of activities associated with a roadside utilities project."
The cut happened during the night on Monday, and service resumed at 3:45pm local time. The outage came during a day when many citizens register to vote - with the state backing a large marketing campaign to remind people to register.
This month has also seen voter registration disrupted in Connecticut due to a falling transformer crushing six fiber optic cables, and a 40-hour outage in Pennsylvania due to equipment failure. Both were resolved with plenty of time left for people to register, unlike Virginia's case.
The proximity to the deadline led to many calling for an extension to registration. "Absent relief, voters who attempted to register to vote through the online portal on October 13, 2020, but were unable through no fault of their own, will be absolutely disenfranchised in the upcoming elections," The Lawyers' Committee lawsuit states.
Democratic members of Virginia's congressional delegation called for a 72-hour extension. Only courts have the ability to extend the deadline, but have yet to do so. The incident is not without precedent - back in 2016, a last-minute flurry of registrations brought down the website, but a lawsuit saw the courts grant a 48-hour extension.
Virginia is home to the largest concentration of data centers in the world. 70 percent of the globe's Internet is thought to flow through Northern Virginia alone.