Bridge Data Centres is to expand its existing campus in Kuala Lumpur, Malaysia.
The ChinData-owned company last week announced plans for a 48MW expansion at its MY03 campus in the 686-acre 4-IR Mranti Park.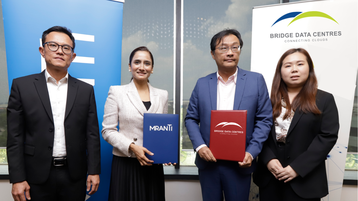 Bridge DC has signed an agreement with the Malaysian Research Accelerator for Technology & Innovation (MRANTI), Malaysia's central research and innovation commercialization agency, to develop three buildings and a 132kV substation in the technology park.
With the expansion, MY03 will offer a total IT power capacity of 64 MW. Phase One is planned to be ready for service with 16MW by Q3 2025, while Phase Two is scheduled to begin operations by Q4 2027.
Dz Shing Lim, president, Bridge Data Centres said: "Our expansion in Kuala Lumpur further strengthens BDC's position as Asia Pacific's data center solutions leader. This strategic investment allows us to better serve our clients' evolving needs with best-in-class data center solutions and contribute to Malaysia's digital transformation journey. I would like to express my appreciation to MIDA, MRANTI, and MDEC for their support."
Tho Lye Yit, vice president of design, Bridge Data Centres, added: "The state-of-the-art facility will feature sustainable features; energy-efficient power and cooling technology, and multiple network connectivity to ensure uninterrupted operations and optimal performance."
Bridge DC announced plans for the first 16MW building at the MY03 site in 2021. The company operates two facilities in Cyberjaya, and launched a data center outside Johor last year.
The company also has a facility in Thailand and is aiming to develop a 20MW data center in Navi Mumbai, India.
Bain bought Chindata in 2019 from Wangsu Science & Technology Co. and merged it with its portfolio firm Bridge Data Centres. The combined company went public in 2020, but Bain is currently seeking to take the company private again.