Bridge Data Centres has expanded into Thailand with the acquisition of a data center in Bangkok.
First reported by TechWireAsia, the company has acquired a facility from local industrial & logistics real estate firm WHA Logistics. Terms of the deal were not disclosed.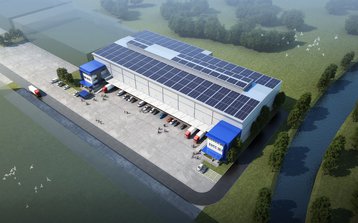 The newly-acquired BKK01 facility has approximately 6,500 sqm (70,000 sq ft) floor area, is currently operational at 450kw with the remaining space expected to fit out to support an additional 5MW IT capacity load.
"Bridge Data Centres (BDC) recognized Thailand's potential through the rise in their adoption of cloud-based services", said Dz Shing Lim, President of Bridge Data Centres.
"This contributes to the growth of retail and wholesale colocation services in the Thai digital space. BDC has been growing steadily in the Asia Pacific region and Thailand is one of the many markets within Southeast Asia that we are making entry into, as we follow Hyperscale demand and favoring market conditions."
Founded in 2003 and focused primarily on industrial warehouses and logistics centers, WHA announced it was moving into data centers in 2016, investing Baht 1.3 Billion in developing three facilities – two in Bangkok around Vibhavadi-Rangsit and Bangna-Trad roads, and one outside the city to the south in Rayong – on land it owned in the country. The company's digital subsidiary WHA Digital Platform (also known as WHA Infonite) offers colocation services.
The facility at Vibhavadi-Rangsit Road launched with 100 racks over 400 sqm (4,300 sq ft); Bangna-Trad Road offers more than 800 racks over approximately 4,500 sqm (48,400 sq ft); and the Rayong facility on Hemaraj's Industrial Estate offers more than 850 racks over 5,000 sqm (53,800 sq ft).
The company has seemingly since added a fourth facility but hasn't disclosed details; the company has a minority holding in SuperNap Thailand it acquired in 2018, so it may be space in that facility. A 2020 company report mentions a joint venture partnership with local operator Genesis Data Centers, which was since acquired by Etix Everywhere earlier this year.
In a recent stock exchange filing, the company noted it divested two data centers in Q1 of 2022 but didn't provide details.
TWA said the acquired data center is located in Samut Prakan; WHA's Banga-Trad road facility is in the Samut Prakan area of Bangkok.
Bain Capital merged ChinData with Bridge Data Centres in 2019; the combined company operates as ChinData within China and Bridge across the rest of Asia.
BDC currently operates two Malaysian data centers located in Cyberjaya which it acquired in 2018, with two more in development in the country. The company has plans to develop a new 16MW data center in Kuala Lumpur; MY03 is scheduled for launch in Q2 2022. It is also working on MY06, a large-scale facility in Johor, as well as a 350,000 sq ft, 20MW data center in Navi Mumbai, India, known as BBY01.
Previous reports suggest ChinData is considering selling itself, possibly to GDS or EdgeConnex.