The pan-Mediterranean BlueMed subsea cable is set to land in Libya in the future.
Telecom Italia/TIM subsidiary Sparkle this week announced that it had signed a Memorandum of Understanding with the Libya Postal Telecommunication and Technology Holding Company (LPTIC).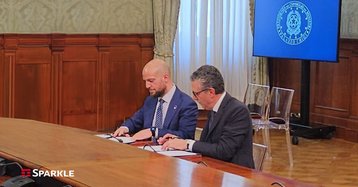 The agreement covers new submarine infrastructure connecting "multiple landings" in Libya to Sicily, and via Italy to Europe through Sparkle's new BlueMed subsea cable.
Potential landing points were not listed, but Libya has 13 cable landing stations across the country's north coast, despite only being linked to four subsea cables.
LPTIC is the state-owned telecoms company set up in 2005 and holds Libyana, Al-Madar, and Libya Telecom and Technology. The Libyan International Telecom Company (LITC) was established in 2008 to manage the country's data and communications infrastructure and offer wholesale services.
The MoU was signed by Mohamed Ben Ayad, chairman of LPTIC, and Sparkle CEO Enrico Maria Bagnasco.
The Sparkle/Google/Omtenal-owned BlueMed cable will connect Italy with France, Greece, and Israel, with several other branches across the Mediterranean. The 250Tbps cable will have four fiber pairs and a capacity of more than 25Tbps per pair. Construction is already underway.
The cable is landing at stations in Genoa, Italy; Palermo, Sicily; and Bastia, Corsica. It is also set to land in Yeroskipos, Cyprus; Chania, on the Greek island of Crete; Golfo Aranci on the Italian island of Sardinia; Rome, Italy; and Marseille, France.
BlueMed is the Mediterranean portion of the Europe-to-Asia Blue-Ramen cable; after landing in Tel Aviv, Israel, the cable will travel overland to the banks of the Red Sea at Aqaba in Jordan and then onto Djibouti, Saudia Arabia, Oman, and India.
Libya currently lands four subsea cables. The UK to India Europe India Gateway (EIG) is the only cable connecting to Libya that also lands in more than two countries.
The LFON (Libyan Fiber Optic Network) connects 13 points on the Libyan coast. The LITC/Sparkle-owned Italy-Libya cable links the island of Sicily to the Libyan capital Tripoli, and the Silphium cable links Derna in Libya to Chania on the island of Crete.