AWS has made its private LTE network service generally available in the US. Though it is named Private 5G, it currently only supports 4G LTE.
Private 5G is a managed service that helps enterprises set up and scale private mobile networks in their facilities. AWS claims the networks can be set up in days instead of months through the AWS Management Console.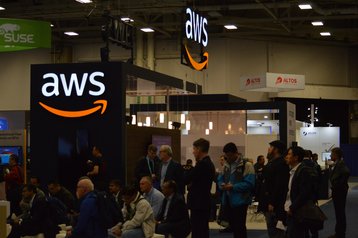 "You can use the network to communicate with the sensors & actuators in your smart factory, or to provide better connectivity for handheld devices, scanners, and tablets for process automation," said Jeff Barr, chief evangelist for AWS. The service was first previewed in November 2021.
Users specify where to build a mobile network and the number of devices that will be connected. AWS then delivers and maintains the small cell radio unit, the mobile network core and radio access network (RAN) software, and subscriber identity modules (SIM cards) required to set up a private mobile network and connect devices.
The private mobile network makes use of Citizens Broadband Radio Service (CBRS) spectrum. It supports 4G LTE today, and will support 5G in the future. Each network supports one radio unit that can provide up to 150Mbps of throughput spread across up to 100 SIMs. The company said it was working to add support for multiple radio units and greater number of SIM cards per network. The company said one radio unit can generally support anywhere from 64 to 200 devices depending upon how frequently the end devices are active. Units are rugged and can be placed indoors or outdoors.
No upfront fees or per-device costs are incurred with AWS Private 5G, and you pay only for the network capacity that you request. Each radio unit is billed at $10 per hour, with a 60-day minimum; the service does not support third-party network core or small-cell radio units.
There will be two deployment options; one where the mobile network core is hosted in an AWS Region, and another where the mobile core is hosted on-premises (though the latter option isn't available yet). AWS Private 5G is currently available in the following AWS Regions: US East (Ohio), US East (N. Virginia), and US West (Oregon).
More in Cloud & Hyperscale