Australian Edge data center firm Leading Edge Data Centres (LEDC) has raised AU$30 million (US$21m) from DigitalBridge.
Founded in 2018, Leading Edge is deploying Edge facilities across Australia, starting in New South Wales (NSW). The company uses prefabricated data centers that can be quickly erected and used; the prefabs come in either 30 or 75 rack configurations.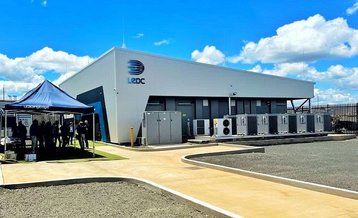 The company announced this week that it has secured an AU$30 million equity investment in its regional Edge network from an affiliate of DigitalBridge Group
"Leading Edge Data Centres is proud to announce a $30 million investment from leading global digital infrastructure giant DigitalBridge," the company said on LinkedIn this week. "The funds will be used to further our expansion of Edge Data Centres across Regional Australia."
"Great to be working closely with Marc Ganzi [President and CEO of DigitalBridge] and his team to leverage their deep expertise in digital infrastructure."
Leading Edge has data centers in Tamworth, Newcastle, Albury, and Dubbo. The company plans 10 more in NSW before moving into Victoria and then to Queensland and the Gold Coast. It previously secured AUS$20m in 2020 from Australian investment firm Washington H Soul Pattinson.
DigitalBridge first invested $5 million in the business last year. The new financing will reportedly see DigitalBridge gain two places on LEDC's board.
The company was granted approval for a data center in Wagga Wagga in January 2022. It is also looking to build in Bathurst, Coffs Harbour, Parkes, Newcastle Airport, Gosford, Orange, Wollongong, Port Macquarie, and Nowra. Coffs Harbour and Wagga Wagga are currently under construction and are due to be finalized within three months.
Chris Thorpe, founder and CEO of LEDC, added: "DigitalBridge is a leading global investor in digital infrastructure, with multiple edge investments globally, and this investment is a vote of confidence in LEDC's business strategy and trajectory. This investment will accelerate the deployment of our world-class regional edge network, positioning LEDC to provide significant social, economic, and environmental benefits to Regional Australia."
The company told the AFR that it now controls 18 sites, three of which it owns. The others are leased for an average of 40 years, and there are more in the pipeline. The latest purchase is in Bundaberg, Queensland.
Fellow Australian Edge data center firm Edge Centres is also developing more than a dozen facilities across Australia, including a number in the same towns and cities as LEDC.